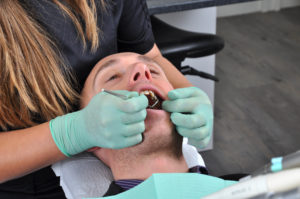 Oral cancer claims one life an hour in the US alone, making it deadlier than other forms of the disease like lung and breast cancer. Still, not as many people know about oral cancer. With a diagnosis in the earlier stages, doctors believe they may be able to reduce the numbers of annual oral cancer related deaths. That's why April has been deemed oral cancer awareness month. If more people know about oral cancer, the warning signs, and how to receive an earlier diagnosis, we may see improvement in the prognosis related to this disease. Six month preventive dental checkups offer the best opportunity to receive regular oral cancer screenings.

What Happens During Your Oral Cancer Screening
An oral cancer screening is quick and painless. We simply examine your oral and facial structures for the warning signs of oral cancer. We may also gently palpate your lymph nodes, cheeks, and neck looking for inflammation and hardening. Then, we'll ask some questions to help us better understand whether or not you are at high risk for oral cancer. Habits like smoking and other tobacco use and excessive drinking are the most common behaviors associated with oral cancers. Patients who suffer from human papillomavirus (HPV) are also at increased risk for this disease. Genetics also plays a role in your chances of suffering from oral cancers. Let us know if any of these characteristics or behaviors apply to you.
Warning Signs to Look For
Even with regular professional screenings, no one knows your smile better than you do. Let your dentist or a medical doctor know right away if you notice any of the warning signs of oral cancer, including the following:
Changes in the color of soft tissue
Changes in the texture of soft tissue
Swelling, inflammation, or lumps in the soft tissue
Sores that don't heal
Difficulty swallowing
Chronic sore throat or hoarse voice
Meet the LIC Dental Associates
At LIC Dental Associates, we go above and beyond to help patients achieve and maintain healthy, happy lives. During your six month dental appointments, we will complete thorough screenings for oral cancer and other oral and overall health concerns. If you notice warning signs of this disease, don't hesitate to contact us. We're always happy to help. If we think you should be concerned about the symptoms you're experiencing, we'll work with you to determine what your next steps should be. We look forward to seeing you in our Long Island City dental office soon.