Pediatric Dentistry – Long Island City, NY
We Love Caring For Growing Smiles
We love kids! Dr. Ng has worked with children between the ages of 6 months and 17 years, and she excels at making your child feel comfortable and you (the parent) feel confident that they are getting the proper care. LIC Dental Associates has a special pediatric reception area for little ones and their parents. We also have a dedicated pediatric dental room that is customized in a superhero theme just for children!
Why Choose LIC Dental Associates for Pediatric Dentistry?
In-House Pediatric Dentist Available
We Love Treating All Ages
Sedation Dentistry Available Upon Request, Including General Anesthesiology
When Should My Child First See a Dentist?
The short answer is "first visit by first birthday." That's the view of the American Academy of Pediatric Dentistry. Pediatricians agree. The American Dental Association and the American Academy of Pediatric Dentistry say that the first dental visit should occur within six months after the baby's first tooth appears, but no later than the child's first birthday. It's best to meet the dentist when your child is having no dental problems—don't wait until an emergency comes up.
The idea of such early dental visits is still surprising to many new parents. However, national studies have shown that preschool-aged children are getting more cavities. More than 1 in 4 children in the United States has had at least one cavity by the age of 4. Many kids get cavities as early as age 2.
To prevent early childhood cavities, parents first have to find out their child's risk of developing cavities. They also need to learn how to manage diet, hygiene habits, and fluoride exposure to prevent problems.
But cavities aren't all that parents need to learn about for their child's dental health. By visiting early, we can discuss:
How to care for an infant's or toddler's mouth
Proper use of fluoride
Oral habits, including finger and thumb-sucking
Ways to prevent accidents that could damage the face and teeth
Teething and milestones of development
The link between diet and oral health
Schedule Your Child's First Visit with our Long Island City Office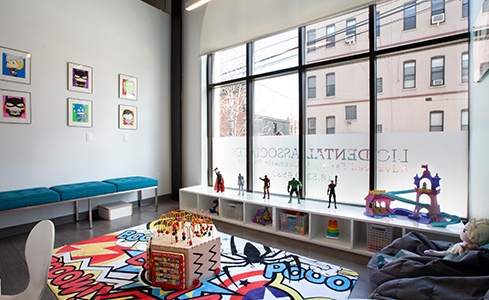 After this first visit, Dr. Ng will suggest a schedule of follow-up visits. As your child grows, our dental team can help you learn how to prevent common oral problems.
Preparing For The Age 1 Dental Visit
What To Expect At The Office
Tips for a Positive Dental Visit