Dental Implants – Long Island City, NY
Turn Back the Clock on Tooth Loss
The loss of natural teeth can be a very difficult experience, not only for your oral health but for your self-confidence and quality of life as well. At LIC Dental Associates, we're proud to offer a truly exceptional solution to this type of damage: dental implants. Dental implants recreate the entire tooth, providing seamless aesthetics and outstanding durability while also promoting long-term oral health. It will be like your natural tooth or teeth have returned form the past! Better yet, our dental office has an in-house implant specialist, which means we can perform every stage of treatment right here in Long Island City. Please contact us today if you'd like to schedule a consultation.
Why Choose LIC Dental Associates for Dental Implants?
In-House Dental Implant Specialist
Surgical Implant Placement & Restoration in One Office
Revolutionary Cone Beam for Comprehensive, Confident Treatment Planning
Benefits of Dental Implants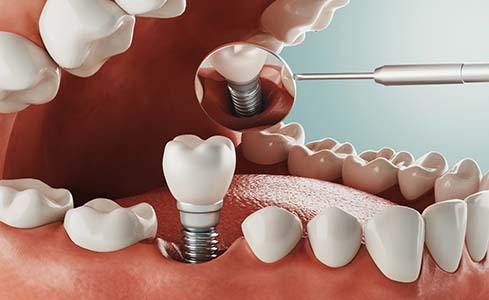 Your original tooth is composed of two distinct segments – the white crown on top that everyone's familiar with and the root that's well-hidden beneath the gum tissue. Traditionally, dental restorations have focused on recreating the former, but without a functioning tooth root in place, the jawbone is likely to deteriorate over time. The dental implant is unique because it starts with the root, establishing a healthy and enduring foundation for the new tooth that will stand the test of time.
Additional benefits of choosing dental implants include:
Versatility – Our experts can use dental implants to replace a single tooth or an entire mouthful.
Seamlessness – Once completed, implant-retained teeth are virtually indistinguishable from natural teeth in look, feel, and function.
Convenience – Implant-retained teeth can be cared for just like the rest of your smile, no inconvenient routine changes required.
Longevity – Dental implants are meant to last for many decades or even the rest of the patient's life.
Learn More About How Dental Implants Work
Indications for Dental Implants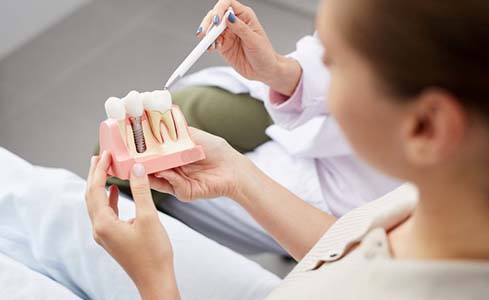 There are several methods for restoring teeth with dental implants, and our recommendation will depend on the severity of the patient's tooth loss and their own personal preferences:
Missing One Tooth
When rebuilding a single tooth, an all-ceramic dental crown can be paired with an individual implant. This conservative approach works well alongside natural teeth, which won't have to be significantly altered in order to accommodate the new addition.
Missing Multiple Teeth
Implant-retained crowns can also be placed over implants in multiple areas throughout the mouth; alternatively, implant-retained bridges are available to fill in gaps left by one or more missing teeth in a row. While traditional bridges required healthy teeth to be filed down for support, this modern prosthetic relies on two dental implants instead as its anchors – one placed on either side. This approach is healthier, sturdier, and longer-lasting.
Missing All Teeth
If you have lost an entire arch of natural teeth, an implant-retained denture can work wonders in replenishing the complete smile you need and deserve. Instead of requiring one implant per lost tooth, these full prosthetics can anchor into place over a small number of strategically placed implants, making them more cost-effective.
Start to Finish Convenience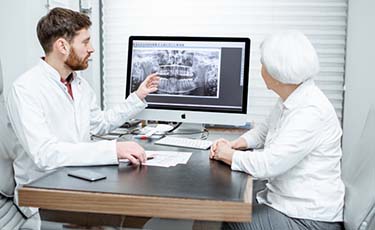 At LIC Dental Associates, pairing much-needed convenience with reliable, top-tier quality is an important priority for us – that's why Dr. Ishwinder Saran is proud to lead a team of in-house experts here in Long Island City, including a dental implant specialist. By performing every stage of this transformative tooth replacement service right here in one location, our patients are able to stay comfortable with a team they trust and avoid unneeded travel time.
Cost of Dental Implants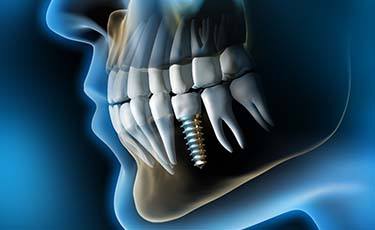 Replacing lost teeth with one or more dental implants is a multi-step process that can greatly differ from case to case, which makes estimating its overall price tricky before the patient has undergone a dedicated consultation with our doctors. Please don't hesitate to schedule a visit at LIC Dental Associates so that we can assess your needs and provide all of the information you need to pursue further treatment confidently.
While dental implants may seem like a significant investment, it's important to remember that their benefits are numerous and long-lasting. In fact, they'll likely pay for themselves over time – while traditional dentures and bridges will likely require repairs throughout the years, implant-retained teeth are designed to thrive for decades with only minimal maintenance.
Learn More About Cost of Dental Implants
Dental Implant FAQs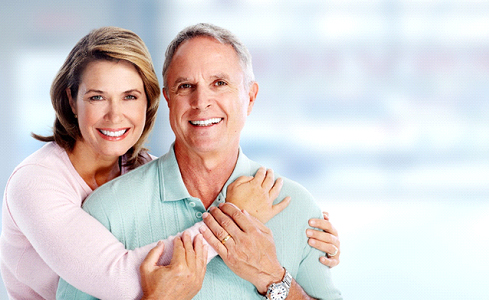 You're in the process of trying to decide how you want to replace your missing teeth. With so many options available, it can be hard to choose the right one. At LIC Dental Associates, Dr. Ishwinder Saran wants you to have complete confidence in your method of treatment, which is why he and his team believe it is important for you to review the following frequently asked questions about dental implants in Long Island City. Feel free to look them over and contact us with any additional questions.
Are Dental Implants Safe?
You'll be happy to know that dental implants are one of the safest methods of treatment available today. Dentists have been recommending them for many years, and more and more patients are achieving long-lasting smiles as a result. In fact, the success rate for dental implant placement is around 95%, so the odds are most certainly in your favor for effective placement.
Do Dental Implants Hurt?
In order to place dental implants, you will be required to undergo surgery. This includes receiving anesthesia before the surgeon makes an incision in your gum line to surgically place the dental implant. Just like any other procedure, you will have some discomfort after the placement procedure is complete. Should you receive any pain medication from Dr. Saran, it is important that you take it as instructed.
You will spend the next several months healing and allowing the implants to fuse to your bone and surrounding tissue, but you don't need to worry about the pain or discomfort lasting the full 3-6 months. Once everything is put into place and finalized, you'll be enjoying your brand-new smile.
Can I Switch to Dental Implants if I Have Dentures?
While the ultimate decision is to be made by your dentist, there is a good chance you can make the switch from dentures to dental implants. Patients who are tired of being able to remove their prosthetic, cleaning it, and worrying about accidentally dropping or breaking it find the permanence and stability of dental implants a welcomed change.
There are limitations with dentures, but dental implants make it so that patients can feel confident in their fully functional, longer-lasting smile.
During a thorough evaluation by Dr. Sarah, he will check your bone density and gum health. As long as your bone is strong enough to hold up the implants, you will be given the green light. If not, you might need to undergo a bone graft or sinus lift to add extra bone to the weakened area.
Does Insurance Cover a Dental Implant?
This question can only be answered by checking with your dental insurance company. Most policies do not cover dental implants; however, that is not to say there are not any out there who won't. Various factors are figured into the overall cost of your implant placement, such as:
The number of dental implants you will need to have placed
The location of the implants
Materials used
Anesthesia/sedation
Initial consultation
You can expect to receive a clear estimate during your initial consultation. This will give you an idea as to whether you want to move forward with treatment, and if so, begin to make a budget for your new smile.