Dental Implants – Long Island City, NY
Turn Back the Clock on Tooth Loss
Tooth loss can be difficult to say the least. Not only can your self-confidence plummet, but your oral health and overall quality of life can also suffer. At LIC Dental Associates, we're proud to offer a truly exceptional solution for missing teeth: dental implants. Unlike other tooth replacements, dental implants from our Long Island City dentist recreate the entire tooth structure, providing seamless aesthetics and outstanding durability while also promoting long-term oral health. It will be like your natural teeth have returned from the past! Better yet, we can perform every stage of dental implant treatment right here in our dental office thanks to our experienced in-house periodontist, Dr. Steven Bizzell. If you'd like to schedule a consultation for dental implants in Long Island City, NY, please contact us – your smile will thank you!
Why Choose LIC Dental Associates for Dental Implants?
Entire Dental Implant Treatment Completed in One Location
Dental Implants Surgically Placed by a Diplomate of the American Board of Periodontology
State-of-the-Art CT Cone Beam Scanner for Ultra-Precise Treatment Planning
What Are Dental Implants?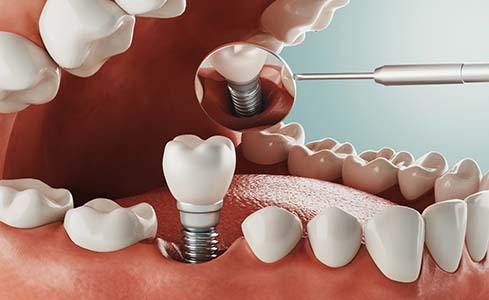 Natural teeth are composed of two distinct segments – the white crown on top that everyone's familiar with and the root that's well-hidden beneath the gum tissue. Traditionally, tooth replacements have focused on recreating the former, but without a functioning tooth root in place, the jawbone is likely to deteriorate over time. Dental implants are unique because they start with the root, establishing a healthy and enduring foundation for the new tooth that will stand the test of time.
A dental implant itself is a screw-shaped titanium post that we surgically place into the jaw where the root of your tooth used to be. Over the next several months, the post fuses with the bone and tissue surrounding it. This allows it to support any number of replacement teeth, whether that's with a dental crown, bridge, or denture. You end up with a brand-new smile that looks and feels as though you'd never lost any teeth in the first place!
The 4-Step Dental Implant Process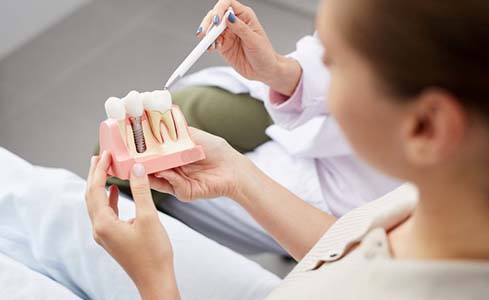 Many general dental offices have to refer their patients to separate dental offices for the surgical portion of their dental implant treatment, but not at LIC Dental Associates. Instead, we've brought the specialist to you! Dr. Steven Bizzell has completed advanced training to be qualified to perform dental implant surgery in our very own dental office, streamlining your treatment for a more comfortable, convenient, and affordable experience.
While the dental implant process can take longer than that of conventional tooth replacements, the long-term benefits that this solution offers are worth the wait. Each patient's treatment plan is slightly different, but you can expect to undergo these four basic steps.
Initial Dental Implant Consultation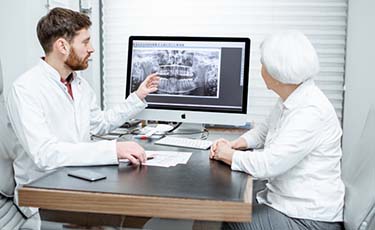 The first step in your treatment is a consultation with an implant dentist in Long Island City. They will carefully assess your oral health, learn about your goals for treatment, and answer your questions. Our team may use our advanced CBCT scanner to learn about the state of your jaw and teeth as part of this initial appointment.
After getting to know you and your oral health, your dentist will talk to you about the specifics of your recommended implant treatment. Some patients can begin preparing right away for their implant surgery, while others must undergo some preparatory treatment — such as a bone graft — before they can move forward.
Dental Implant Surgery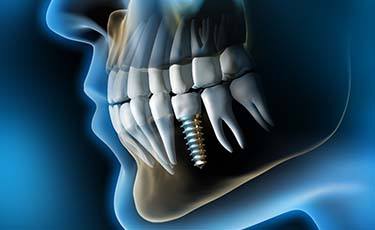 During your dental implant surgery, our in-house implantologist, Dr. Steven Bizzell, will insert your dental implants into your jaw at precise, pre-planned locations. The surgery does not take long, and many patients are able to go back to work within the next day or two. During the procedure, our team will ensure your comfort with anesthesia. We also offer various levels of sedation, from mild nitrous oxide to powerful general anesthesia. Before you go home, we will make sure you have detailed postoperative instructions to make your recovery as smooth as possible.
Dental Implant Osseointegration/Abutment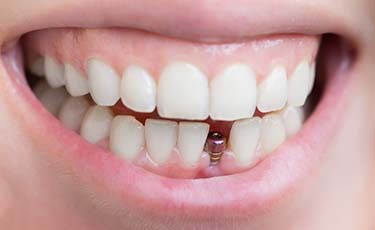 After your surgery, a remarkable process known as osseointegration will begin. Essentially, this means that the dental implants will fuse with the surrounding bone, enabling them to act as a strong base of support for the artificial teeth that will go on top of them. Osseointegration typically takes at least three to six months.
Following osseointegration, you might undergo a second surgery, during which the heads of the implants will be exposed and small connector pieces, called abutments, will be attached to them. The abutments will serve to secure your new teeth in place.
Delivery of Dental Implant Restorations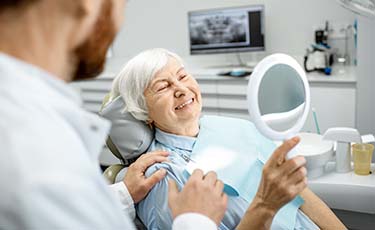 After the tissue around your implants has healed, your dentist will get to work on designing the crowns, bridge, or denture that will go on top of your implants. We carefully design each restoration so that its size, shape, and color complement a patient's oral anatomy and facial characteristics. Once your restoration is in place, you will be able to start enjoying the full benefits of your new, implant-supported teeth.
Benefits of Dental Implants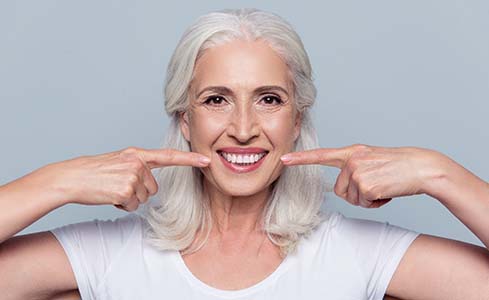 Most people know of the more traditional ways to replace missing teeth, such as dentures and dental bridges. However, dental implants have become increasingly popular in recent years, with over 500,000 placed annually. They're now considered the gold standard of tooth replacement – and there's a good reason for that. Since implants are surgically inserted into the jawbone, they offer a range of benefits that you just can't get with other tooth-replacement options. Below, we've included a few of the incredible benefits you can reap with dental implants. If you prefer to speak directly with a member of our team, don't hesitate to contact us!
Day-to-Day Benefits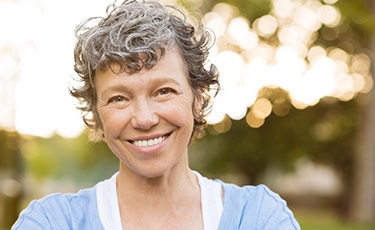 By replicating the entire structure of missing teeth, dental implants can deliver a number of unique everyday benefits, including:
Versatility – Our experts can use dental implants to replace a single tooth or an entire mouthful.
Seamlessness – Once completed, dental implants are virtually indistinguishable from natural teeth in look, feel, and function.
Convenience – Implant-supported replacement teeth can be cared for just like the rest of your smile, with no inconvenient routine changes required.
Improved Confidence – Dental implants will never slip out of place once they've integrated with the jawbone. They'll allow you to eat, speak, and smile with complete confidence once again!
Health Benefits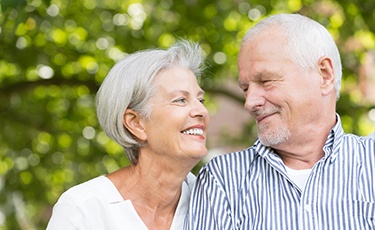 Even though dental implants can make you look your very best, they have more to offer an enhanced appearance. Many patients can expect to enjoy numerous health benefits as well, including:
Unmatched Stability – Since implants are firmly rooted into the jawbone, you don't worry about them moving while you chew or speak.
Prevent Dental Drift – Dental implants serve as a placeholder to ensure that your remaining teeth don't drift out of place.
Jawbone Preservation – Unlike other tooth-replacement solutions, dental implants can preserve the jawbone, keeping it healthy and functional. Not only can they prevent bone loss, but they help maintain the face's overall shape as well.
Regained Ability to Eat Healthily – With dental implants, you'll regain the ability to eat nutritious foods with ease. By sticking to a healthy diet, you can keep your overall health in optimal condition and enjoy a higher quality of life.
Long-Term Benefits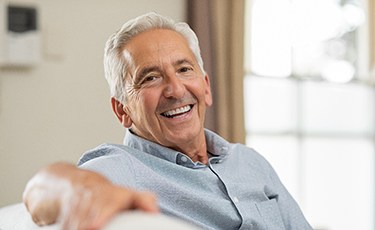 Have you thought about how getting dental implants in Long Island City can benefit you in the long run? If so, here's what you can expect for years to come:
High Success Rate – Dental implants have an impressive success rate of about 95%. They've proven to be effective even 20 years after they're placed!
Youthful Appearance – Since dental implants stimulate the jawbone, they prevent its deterioration and can help you avoid the sunken, aged look that's common with tooth loss.
Long Lifespan ­– With proper care and maintenance, your new smile can last decades – sometimes even a lifetime! You won't have to worry about replacing your implants every few years, which can save you plenty of time and money down the line.
Who Dental Implants Can Help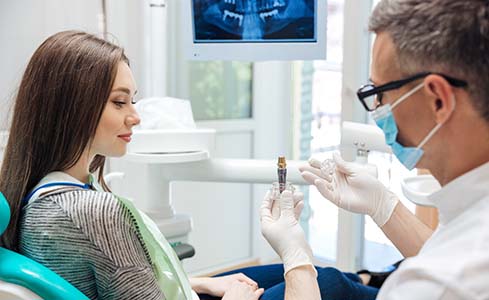 There are several methods for restoring teeth with dental implants, and our recommendation will depend on the severity of the patient's tooth loss and their own personal preferences:
Missing One Tooth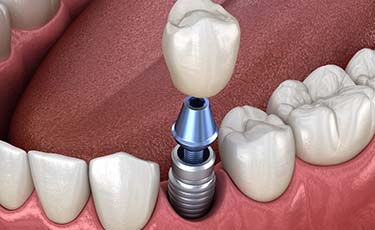 When rebuilding a single tooth, an all-ceramic dental crown can be paired with an individual implant. This conservative approach works well alongside natural teeth, which won't have to be significantly altered in order to accommodate the new addition.
Missing Multiple Teeth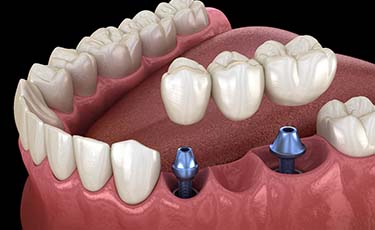 Individual implants with crowns can also be placed in multiple areas throughout the mouth; alternatively, implant-supported dental bridges are available to fill in gaps left by one or more missing teeth in a row. While traditional bridges required healthy teeth to be filed down for support, this modern prosthetic relies on two dental implants instead as its anchors – one placed on either side. This approach is healthier, sturdier, and longer-lasting.
Missing All Teeth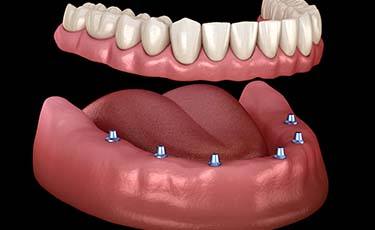 If you have lost an entire arch of natural teeth, an implant denture can work wonders in replenishing the complete smile you need and deserve. Instead of requiring one implant per lost tooth, these full prosthetics can anchor into place over a small number of strategically placed implants, making them more cost-effective.
Understanding the Cost of Dental Implants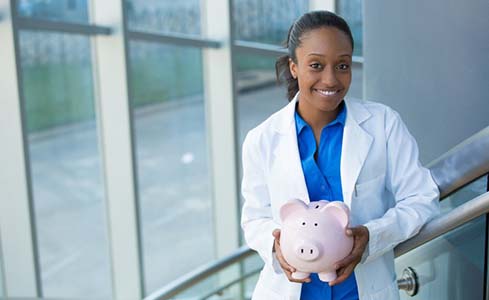 Replacing lost teeth with one or more dental implants is a multi-step process that can greatly differ from case to case, which makes estimating its overall price tricky before the patient has undergone a dedicated consultation with our doctors. Please don't hesitate to schedule a visit at LIC Dental Associates so that we can assess your needs and provide all of the information you need to pursue further treatment confidently.
While dental implants may seem like a significant investment, it's important to remember that their benefits are numerous and long-lasting. In fact, they'll likely pay for themselves over time – while traditional dentures and bridges will likely require repairs throughout the years, dental implants are designed to thrive for decades with only minimal maintenance.
Types of Dental Implants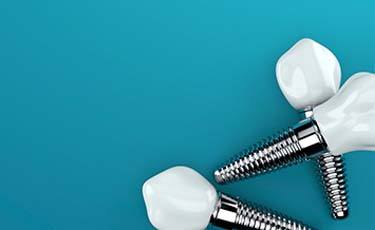 There is not a "one size fits all" price tag for dental implants because the cost of the procedure is determined by your individual treatment plan. There are several factors that influence the amount you pay, such as the number of implant posts and abutments that are necessary. In addition, the types of posts also impact the cost, such as standard or mini posts and titanium or ceramic.
What Are the Stages of Dental Implant Treatment?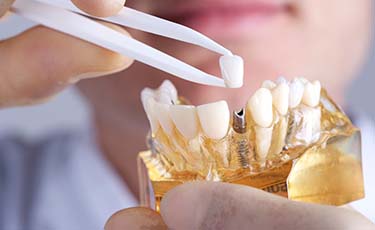 Besides the qualifications and experience of your dentist, the success of your new smile also relies on the treatment process, which is performed in multiple stages. Each step in your plan has separate costs. This can make it easier to afford your procedure because it gives you more time to pay. On average, you can expect to pay for:
Initial Consultation – You will need a thorough examination, which also includes digital images and a CT scan.
Additional Procedures – You may need certain procedures to create the right foundation for your dental implants, like tooth extractions, bone grafting, or a sinus lift.
Placement Surgery – Sedation or anesthesia are used during your placement surgery to ensure your comfort as the posts are placed into your jawbone.
Abutments & Restorations – Each implant post needs an abutment to connect your restoration.
Are Dental Implants Worth the Investment?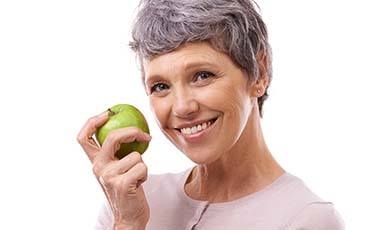 If you're like many patients, you're probably wondering why you should spend more on dental implants instead of saving money with traditional treatments? Believe it or not, dental implants are actually more affordable long-term. They have over a 95% success rate to last for several decades, so you should never need to worry about paying to have them replaced. In addition, they improve your oral health to reduce your overall dental expenses.
Does My Dental Insurance Cover Dental Implants?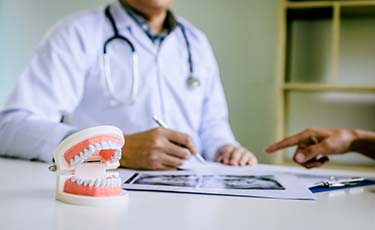 Unfortunately, most dental insurance companies will not cover the entire treatment, but they may pay for certain aspects depending on your individual policy until you reach your annual limit. We work on your behalf with your insurance carrier to reduce the amount you need to pay.
We accept several forms of payment to cover any remaining balance, including third-party financing with CareCredit. You're given the funds you need using a payment plan that accommodates your budget. Our dental office staff works with you to find the solutions you need to keep your new smile affordable.
If you're ready to invest in a complete smile, we can help. Contact our dental office today to schedule your consultation.
Dental Implant Frequently Asked Questions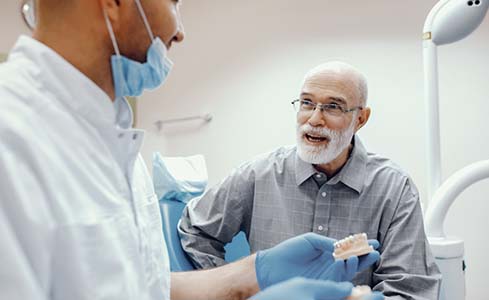 You're in the process of trying to decide how you want to replace your missing teeth. With so many options available, it can be hard to choose the right one. At LIC Dental Associates, Dr. Ishwinder Saran wants you to have complete confidence in your method of treatment, which is why he and his team believe it is important for you to review the following frequently asked questions about dental implants in Long Island City. Feel free to look them over and contact us with any additional questions.
Are Dental Implants Safe?
You'll be happy to know that dental implants are one of the safest methods of treatment available today. Dentists have been recommending them for many years, and more and more patients are achieving long-lasting smiles as a result. In fact, the success rate for dental implant placement is around 95%, so the odds are most certainly in your favor for effective placement.
Do Dental Implants Hurt?
In order to place dental implants, you will be required to undergo surgery. This includes receiving anesthesia before the surgeon makes an incision in your gum line to surgically place the dental implant. Just like any other procedure, you will have some discomfort after the placement procedure is complete. Should you receive any pain medication from Dr. Saran, it is important that you take it as instructed.
You will spend the next several months healing and allowing the implants to fuse to your bone and surrounding tissue, but you don't need to worry about the pain or discomfort lasting the full three to six months. Once everything is put into place and finalized, you'll be enjoying your brand-new smile.
Can I Switch to Dental Implants If I Have Dentures?
While the ultimate decision is to be made by your dentist, there is a good chance you can make the switch from dentures to dental implants. Patients who are tired of being able to remove their prosthetic, cleaning it, and worrying about accidentally dropping or breaking it find the permanence and stability of dental implants a welcomed change.
There are limitations with dentures, but dental implants make it so that patients can feel confident in their fully functional, longer-lasting smile.
During a thorough evaluation by Dr. Sarah, he will check your bone density and gum health. As long as your bone is strong enough to hold up the implants, you will be given the green light. If not, you might need to undergo a bone graft or sinus lift to add extra bone to the weakened area.
Does Insurance Cover a Dental Implant?
This question can only be answered by checking with your dental insurance company. Most policies do not cover dental implants; however, that is not to say there are not any out there who won't. Various factors are figured into the overall cost of your implant placement, such as:
The number of dental implants you will need to have placed
The location of the implants
Materials used
Anesthesia/sedation
Initial consultation
You can expect to receive a clear estimate during your initial consultation. This will give you an idea as to whether you want to move forward with treatment, and if so, begin to make a budget for your new smile.