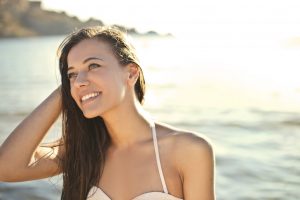 The sun is shining, and the warmer weather is here. Summer is a great time to head outdoors for camping or traveling to a dream destination. The last thing you'd expect to interrupt your plans is a dental emergency. Believe it or not, it's more common than you might realize. 1 in 6 Americans has an urgent oral health issue each year. You can avoid an unplanned trip to your emergency dentist in Long Island City by following 5 simple tips.
1. Schedule a cleaning and checkup.
Dental emergencies can take many forms, and they aren't always the result of an accident or injury. Instead, many sudden oral health problems are caused by an untreated dental issue, like a cavity. You can ensure there isn't a ticking time bomb in your mouth by scheduling a cleaning and checkup. They'll make sure your smile is healthy, so nothing interrupts your summer plans.
2. Pack an oral hygiene kit.
Even if your vacation is only for a few days, you don't want to skip flossing or brushing before bed. Maintaining your oral hygiene routine while you're away from home can be challenging, but you can make it easier with a travel kit. Purchase travel-sized products, like toothpaste, a toothbrush, and flossers. You'll have everything you need to take care of your teeth and gums while on the go. Don't forget to pack any storage cases or cleaning products for your oral appliances.
3. Practice proper pool safety.
Dentists across the country see an increase in pool-related dental emergencies during the summer. Slipping on a wet pool deck or bumping your mouth on the ledge can quickly lead to a knocked-out or broken tooth. Following proper pool safety can save your smile from unnecessary damage, like not diving into shallow water.
4. Wear an athletic mouthguard if you play sports.
The weather is perfect for bike riding or a friendly game of football; however, don't place your smile at risk of an injury. An athletic mouthguard is a simple solution to safeguard your smile during contact sports. You'll significantly lower your risk of broken and knocked-out teeth if there's any impact to your mouth. You can also avoid jaw injuries and concussions by wearing the small piece of protection.
5. Watch what you eat.
You'll be surrounded by many yummy foods and refreshing drinks. Unfortunately, many of them likely contain sugar, which can erode your enamel and cause tooth decay. It's best to limit your consumption of sugary foods and drinks. If you can't ignore your sweet tooth, brush your teeth well when you're finished.
Enjoy a Beautiful Summer Smile
Keep your dental health a priority during your summer vacation. A few precautions to prevent dental emergencies can save you a lot of hassle down the road.
About Dr. Steven Bizzell
Dr. Bizzell earned his dental degree at the University of Louisville, and he has completed additional training in periodontics. He is a Diplomate of the American Board of Periodontology. If you need an emergency dentist, don't wait. Contact our office today for an appointment.