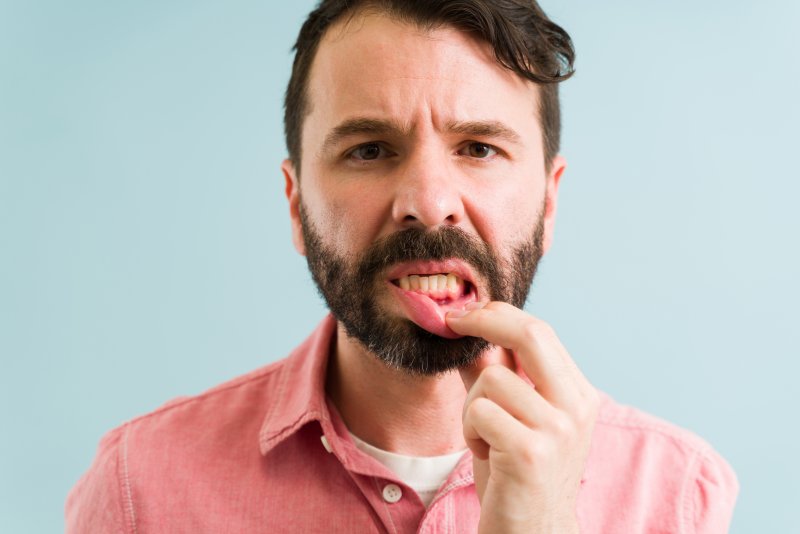 Since it's Fall, you may be thinking of sweet treats. That's only natural – Halloween is only a month away! Still, you'd be wise to focus on your oral health for now. The truth is that September is National Gum Care Month! As such, it's the ideal time to learn about your gums and how they keep your mouth safe. Luckily, your Long Island dentist is here to help out. To that end, here are four little-known gum disease facts you should know.
You Can Spread It
Many people view dental infections as non-contagious. Truthfully, though, this idea isn't accurate. Gum disease can spread from person to person.
Remember, harmful bacteria cause a gum infection. Such microbes can move through one's saliva. So, things like kissing or sharing utensils can spread gum disease via bacteria transfer. From there, a friend or family member can contract their own infection.
Given these facts, it's crucial to treat gum disease at once. You'll not only resolve your issue but also limit your family's exposure to nasty germs.
It Affects Half of All U.S. Adults
Even if you know gum disease is common, you may not grasp the full extent of its presence. The condition occurs much more often than people assume.
You see, over half of all American adults have gum disease. Studies show that roughly 50% of those over age 30 have mild, moderate, or severe periodontitis. That said, many experts believe the true figure is closer to 80% of the U.S. adult population.
Needless to say, don't assume you're safe from gum disease. You may have the ailment without even realizing it.
Oral Care Can't Always Prevent It
True enough, good oral care – at home and with a dentist – is crucial. However, gum disease can occur even when oral hygiene habits are flawless.
Sadly, some gum disease risk factors aren't related to dental care. Such elements include tobacco use, diabetes, immune system disorders, and even genetics. Consequently, you could get a gum infection while still looking after your smile. That said, oral hygiene still has a positive impact. It reduces your risk and helps you heal more easily from gum disease.
It's Linked to Serious Illnesses
In reality, gum disease can have life-threatening effects. It's known to increase your chances of getting heart disease and diabetes.
The issue is how infected gums affect other bodily systems. As its bacteria travels through the bloodstream, periodontitis stresses your heart tissues. On the other hand, gum disease can also raise your body's blood sugar levels. This latter change is associated with a risk of diabetes.
Learning these little-known gum disease facts will make your mouth safer. So, commit them to memory as you celebrate National Gum Care Month!
About the Practice
LIC Dental Associates is based in Long Island City, NY. Led by Dr. Ishwinder Saran, our practice works to give each patient truly personalized dental care. We thus offer preventive, cosmetic, and restorative services tailored to your unique smile. At the same time, we also provide emergency oral treatments and several kinds of periodontal therapy. For more details or to book a visit, you can reach us on our website or by phone at (718)-530-6539.