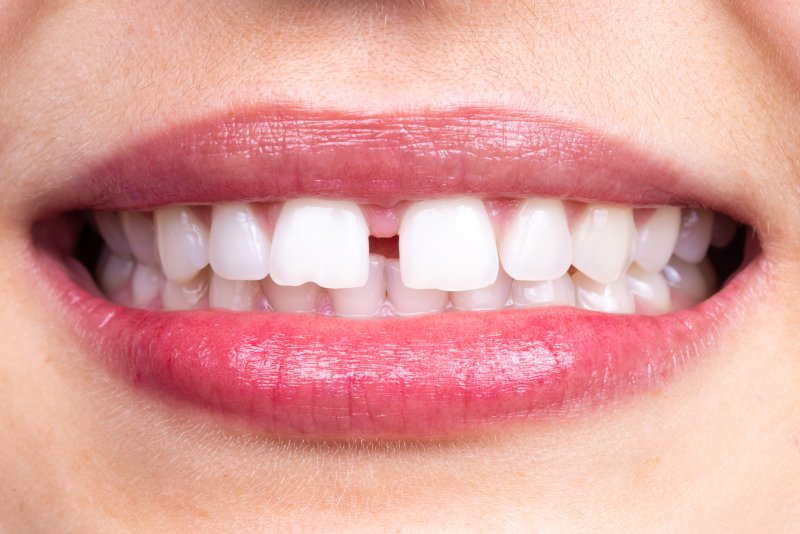 Having a large tooth gap is never a good thing. After all, it alters your smile's alignment and symmetry. That said, a gap between your front teeth is even worse. This kind is especially obvious and worsens your grin's looks. Fortunately, you can always rely on a cosmetic dentist to treat the issue. Your Long Island practice will even explain why that's the case. To that end, here's a primer on diastemas, their causes, and how cosmetic dentistry can fix them.
Diastemas & Their Causes
Put simply, a diastema is a sizable tooth gap. It's normally wider than .5 millimeters and can develop between any of your teeth. While it affects your looks, though, the gap shouldn't harm your oral health.
Diastemas can occur in both kids and adults. For either group, the issue's potential causes are:
Gum Disease: In some cases, a front tooth gap results from advanced gum disease. As the latter damages the bones supporting your teeth, it causes your pearly whites to loosen and spread apart.
Poor Oral Habits: Habits like thumb sucking, lip sucking, and tongue thrusting can put pressure on front teeth. As they do so, the resulting pressure may create a gap between them.
Tooth Size: If a person's teeth are too small for their jawbone, gaps can develop between them. Jawbone size and tooth size are also related to genetics, meaning diastemas often run in families.
Missing or Undersized Teeth: You may get a diastema if you have missing teeth or ones that are smaller than others. In the latter scenario, a diastema is especially likely between your upper lateral incisors.
How Cosmetic Dentists Treat Diastemas
Fortunately, cosmetic dentists have the training and know-how to close tooth gaps. Several of their procedures are known to fix diastemas. In particular, such treatments include the following:
Porcelain Veneers
Veneers are thin porcelain shells applied to the fronts of teeth. Their main use is to correct a wide range of smile flaws, including tooth stains, chips, fractures, and more.
However, veneers can also be used to hide misaligned teeth. That means they can cover up your front tooth gaps. From there, your smile will look fully aligned.
Dental Bonding
To be clear, dental bonding uses tooth-colored resin to hide minor smile flaws. By applying said resin to the affected area, it can cover up stains, chips, cracks, etc.
Because the resin is tooth-colored, dental bonding can help fill gaps between teeth. The result is that the once-gapped teeth look perfectly normal.
Obviously, a gap between your front teeth harms your appearance. That being the case, see a cosmetic dentist for treatment if you have one!
About the Practice
LIC Dental Associates at Court Square is based in Long Island City, NY. Led by Dr. Ishwinder Saran, our practice strives to give every patient top-quality dentistry. We thus offer preventive, cosmetic, and restorative services, as well as emergency dental care. Naturally, then, our office is well-equipped to treat your various tooth gaps! For more information or to book a visit, you can reach us on our website or by phone at (718)-280-3286.