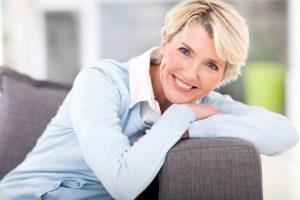 Sunspots, gray hair, and wrinkles are all signs of aging; however, your teeth can also show the passing of time. Discoloration, damage, and other imperfections can make you look years older. You don't have to turn to plastic surgery to restore a youthful appearance. Here are 4 ways you can turn back the clock with cosmetic dentistry.
1. Replace Metal Restorations
Restorations have been made from a variety of metals for generations because they are durable and effective. Nowadays, most crowns are made of all-ceramic materials. A metal restoration can stick out like a sore thumb and instantly give away your age. Swapping your old restoration with an all-ceramic crown will provide seamless results that look natural.
2. Reverse Stains and Discoloration
Teeth change color over the years for several reasons, like enamel loss, smoking, or drinking a lot of coffee. If your smile looks aged or dull, you can reveal a brighter smile with teeth whitening. You have a couple of options to reverse stains, like:
In-Office Whitening: Surface and age-related discoloration can be improved by up to 8 shades using an in-office whitening system. You can have a bright, vibrant smile in about 1 hour.
At-Home Whitening: You can achieve in-office results from the comfort of your couch with an at-home kit. Your dentist will give you everything you need to whiten your teeth over 1 to 2 weeks.
3. Revamp Your Teeth With Veneers
Whether you didn't hit the genetic jackpot or your teeth have been damaged over the years, porcelain veneers can fix many issues at once. Bonding veneers to the teeth visible when smiling can cover stains, chips, gaps, and other imperfections. After just two appointments, you'll have a youthful smile that can last for a decade or longer with the right aftercare, like brushing and flossing.
4. Replace Lost Teeth
Missing teeth are attributed to age. You can take 10 years off your appearance by replacing lost teeth. You have many options to fill gaps, like:
Fixed Bridge: A prosthetic recreates the proportion of a tooth about the gum line. It's made from all-ceramic material and is held in place by bonded dental crowns to the adjacent teeth.
Partial Denture: A partial denture can treat consecutive and non-consecutive tooth loss by using your remaining teeth for support.
Full Denture: A full denture can replace an entire arch of lost teeth using a comfortable solution that rests on top of your gums.
Dental Implants: A dental implant replaces both the root and the crown, providing a nearly perfect replica of a real tooth. Dental implants can also be used to support a bridge or denture.
Although you can't stop time, you can reverse the signs of aging and boost your self-esteem with cosmetic dentistry. You'll look and feel your best with a dazzling smile to be proud of.
About Dr. Hayley Bindner
Dr. Bindner achieved her dental degree from Boston University and has regularly pursued continuing education to provide the most up-to-date services. She is passionate about helping each patient achieve their best smile. Request an appointment online or call (347) 537-6172.