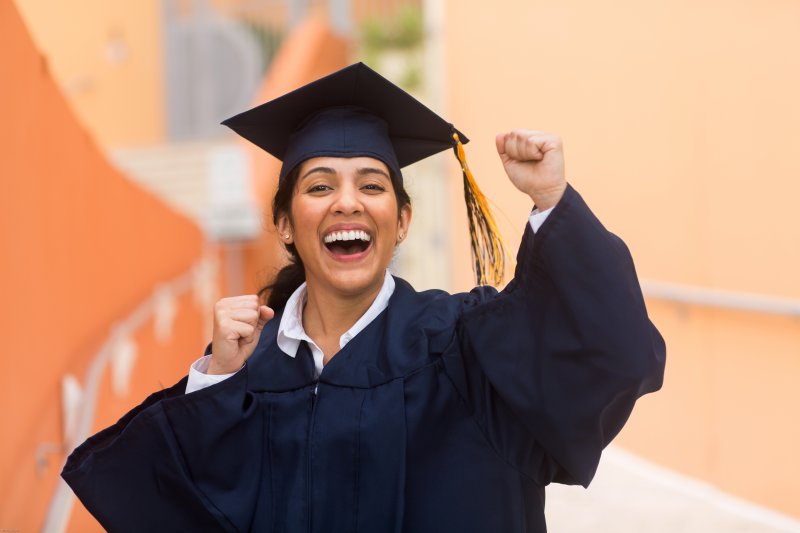 May is here, so most students are ready for the school year's end. Still, some have one more task ahead – their graduation ceremony! Before any fun in the sun, these young scholars must cross the stage for their diplomas. As such, consider gifting cosmetic dentistry to your own graduating student. A lovely grin would enhance their upcoming celebration. In fact, your local dentist even has a few options to suggest. Here are four amazing cosmetic dental treatments for new graduates.
Gum Recontouring
Perhaps your student suffers from a "gummy smile." For that issue, they'd be well-served by getting gum recontouring treatment.
Gum recontouring removes your excess gum tissue with a special laser. In doing so, it reveals more of your smile's white enamel for all to see. Furthermore, its results are both cheap and permanent. The option is thus highly cost-effective and a quick way to boost confidence.
Dental Bonding
Before attending their ceremony, your graduate may need to correct minor smile flaws. If so, a quick dental bonding procedure could do the trick.
In dental bonding, a dentist applies tooth-colored resin to your teeth. This material hides many tooth issues – small stains, chips, cracks, etc. Plus, it helps your enamel blend in with its surroundings. Best of all, though, the treatment offers these effects for years with proper care.
Teeth Whitening
Of course, another top choice for graduation is teeth whitening. This procedure is great at treating mild-to-moderate tooth stains. It offers a bright smile through in-office care or an at-home kit when done well.
For those short on time, in-office whitening is ideal. It only requires a one-hour dental visit. At that appointment, the dentist applies bleaching gel onto your teeth. The session then ends with your enamel six to eight shades whiter.
If scheduling is more flexible, a take-home kit may be more suitable. It would have your student wear bleaching trays on their teeth for roughly two weeks. Once that's done, the final smile would look similar to what you'd get through in-office care.
Porcelain Veneers
Lastly, porcelain veneers are best for graduates with severe smile issues. The treatment, after all, has the power to alter tooth color, shape, and position.
Simply put, veneers are shells placed on the fronts of teeth. Consequently, they cover up various smile issues – stains, chips, cracks, etc. More crucially, their porcelain ensures that treated teeth look gorgeous and natural.
In the end, cosmetic dental treatments for new graduates are excellent gifts. They help your student look incredible as they transition to a new stage in life!
About the Practice
LIC Dental Associates is based in Long Island City, NY. Led by its amazing dentists, our practice offers quality dental care for the whole community. As such, we perform preventive, cosmetic, and restorative services, as well as emergency procedures like root canals and tooth extractions. We're thus well-equipped to make your smile truly healthy and beautiful! For more information or to book a visit, you can reach us on our website or by phone at (718)-530-6539.