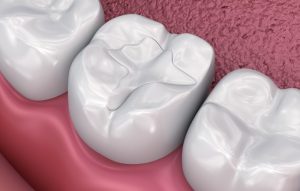 Did you know that treating a decayed or damaged tooth with a filling has been done for thousands of years? As far back as almost 7,000 years, people were using natural products like beeswax to restore a tooth. Now, modern fillings use more durable, reliable, and aesthetically pleasing materials. But how long exactly can you count on your treated pearly white? Read on to learn more about the lifespan of dental fillings and what you can do to get the most out of them!
The Lifespan of Various Fillings
Today's fillings are made from several different kinds of material. Each one has its own benefits as well as lifespan. They are:
Composite fillings – Made from a mixture of ceramic resin and acrylic, this material is able to precisely match the color of the natural tooth for a seamless look. They can last seven to 10 years.
Amalgam (silver) fillings –These fillings are made from a mixture of silver, copper, and tin alloy particles, and tend to last six to 15 years.
Gold fillings – This bright-looking filling costs more than amalgam or composite and usually last 20 years or more.
Ceramic fillings – Lasting 15 years or longer, ceramic fillings are made from porcelain and are even more expensive than gold.
Glass ionomer fillings – Made from glass and acrylic, these fillings are weaker than other fillings and typically last only about 5 years.
Tips to Make the Most Out of Your Filling
Although your existing filling won't last forever, you help it to last as long as possible with certain habits and routines, such as:
A good oral hygiene routine – Brushing your teeth twice a day, flossing regularly, and rinsing with mouthwash are the habits of dental champions! By eliminating bad bacteria, you decrease the risk of decay or infections that can affect your natural teeth and dental filling.
Eat healthy foods – Leafy greens, lean meats, fruits, and vegetables are all healthy food options that will keep your smile looking and feeling its best. Limiting sugar and starch will also decrease your risk of decay.
Avoid sticky foods – Sticky foods may pull on your fillings, so it's best to avoid foods like jerky, gummy candies, and gum so you don't put your restoration at risk of getting damaged.
Wearing a mouthguard – If you are prone to bruxism (teeth grinding) at night, you can get a customized nightguard from your dentist to help to keep your upper and lower arches from touching and causing damage to your filling.
Visit your dentist regularly – Getting a dental checkup and cleaning every six months will allow your dentist to examine the existing filling to ensure it continues to seal the tooth effectively and offer maximum protection.
The fillings of today can successfully repair and restore your natural teeth. Knowing how long yours lasts will help you care for it and keep your smile healthy for years!
About the Author
LIC Dental Associates is eager to help you with any of your smile needs through the expertise of their team of dentists. They provide a full range of dental services, including restorative care. With years of aesthetic and reconstructive experience, they offer customized plans and one-visit dental restorations to get your smile back on track as soon as possible. To schedule an appointment, contact them through their website or call (718) 280-3286.