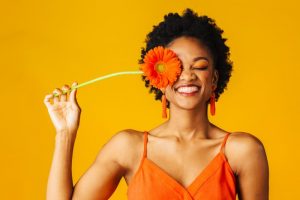 What's your favorite season? For many people, spring is the best time of the year. After the dreariness of winter, it's a welcome time of renewal. From blooming flowers to a deep cleaning of your home, it's a wonderful time to set the reset button. And this can include your smile! Even if you are consistent in caring for your pearly whites with daily brushing and flossing, there are some other ways you can refresh your oral health. Read on to learn four simple ways to get your grin ready for spring!
#1. Out with the Old Toothbrush, In with the New One!
How does your toothbrush look? If the bristles are splayed in different directions, it's time to get rid of it out and get a new one! Or, maybe you can't remember the last time you replaced your current toothbrush. According to the American Dental Association, you should get a new toothbrush every three to four months. Once the bristles become worn, they are not as effective at removing food particles and plaque. A helpful tip: be sure to opt for a toothbrush with soft bristles. This will protect your enamel from being damaged and your gums from receding.
#2. Deep Clean Your Toothbrush Container
Cleaning the bathroom often entails giving the counter, tub, and toilet a good scrub. However, your toothbrush container is also accumulating germs and bacteria as well! By keeping it clean, your toothbrush won't spread these harmful things to your mouth. To make it simple, you can either wipe it down with disinfectant or wash it in warm, soapy water. Or, for a really quick and thorough cleaning, you can throw it in the dishwasher. A sanitized toothbrush container means a happier, healthier smile for you!
#3. Say Goodbye to Your Old Dental Products
A common spring-cleaning routine is to go through the fridge and pantry to get rid of any containers and cans that have passed their expiration date. However, did you know that dental products also have a shelf life? Your toothpaste and mouthwash only have a certain time frame of use and once it's passed, they are not as effective at keeping your pearly whites clean and healthy. Take the time to check the expiration dates on your oral hygiene products and chuck out the old ones. You can always replace them with new dental products you have been wanting to try!
#4. Hop on Over to Your Dentist
When was the last time you went to a dental checkup and cleaning? If it's been more than six months, there's no better time than now. Your dentist can not only give your teeth a deep clean and polish but check for any oral health problems and treat them before they evolve into something more serious. A clean, bright smile is a perfect way to hop into springtime!
About the Practice
LIC Dental Associates keep the smiles of Long Island City healthy and beautiful throughout every season. Through the expertise of their team of dentists, they provide a full range of dental services, from preventive to emergency care. By using state-of-the-art dental technology and customized plans, they can help you with any of your oral health needs. To schedule an appointment, contact them through their website or call (718) 280-3286.