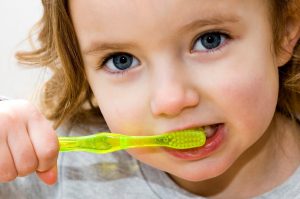 Hearts, candy, and gifts of appreciation aren't the only reasons to celebrate this month. February is National Children's Dental Health Month, dedicated to raising awareness of the importance of oral health for young smiles. It's a perfect opportunity to discuss the benefits of healthy teeth and gums with your child. You can encourage good oral hygiene habits with 3 dental products to celebrate National Children's Dental Health Month.
1. Electric Toothbrush
Although it's almost entirely preventable, tooth decay is the most prevalent health condition affecting children in America. It's even more common than childhood asthma.
Your child's toothbrush is their first line of defense against cavities. Unfortunately, children don't have the best brushing habits. Whether your little one skips brushing before bed, pushes too hard, or rushes through their routine, you can get them excited about brushing their teeth with an electric toothbrush.
Electric toothbrushes offer many special features to cater to your child's exact needs, like a pressure sensor to alert them when they are brushing too hard. You can even find some with timers to ensure they are brushing long enough. They also offer more brush strokes per minute to get their teeth cleaner.
2. Waterflosser
According to the Centers for Disease Control and Prevention, 50% of adults have gum disease, but the preventable infection can affect children, too. Around the age of 6, the spaces between your child's teeth close, which means it's time to introduce daily flossing to clean areas their toothbrush can't reach.
However, traditional floss can be difficult for small fingers to use. Not to mention, they can push too hard, accidentally injuring their gums. A waterflosser is an easy, safe solution.
A gentle stream of pressurized water cleans the most hard-to-reach areas in their mouth. It's a fun, effective way to keep their gums healthy.
3. Tasty Mouthwash
Mouthwash can be a great addition to your child's oral hygiene routine if they are over 6 years old. An antimicrobial mouthwash will kill any lingering bacteria in their mouth.
Look for a mouthwash that contains fluoride to strengthen their enamel and make it more resistant to decay. There are also many fun flavors to choose from, like bubblegum or cotton candy.
Commit to a Healthy Smile
Besides good oral hygiene habits at home, early dental care is equally important. Your child should see their dentist every 6 months, starting before their first birthday. Routine cleanings and checkups allow their dentist to monitor their developing smile, while also learning the importance of regular dental care.
You can foster good oral hygiene habits for a lifetime by joining the celebration of National Children's Dental Health Month.
About Dr. Ishwinder Saran
Dr. Saran earned his dental degree from Boston University Goldman School of Dental Medicine and has regularly pursued continuing education in advanced services, like family dentistry, dental implants, and cosmetic dentistry. If your child needs a cleaning and checkup, request an appointment through our website or call (347) 537-6172.