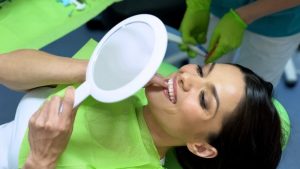 There are countless issues that can diminish the beauty and function of your smile, from missing teeth to discoloration and staining. Fortunately, if your smile doesn't boost your confidence due to several imperfections, your cosmetic dentist can help breathe new life into it with a smile makeover. However, it's important to find the right provider for you to achieve the best results! Read on for four important questions to ask your cosmetic dentist before moving forward with your treatment.
Do You Have Before and After Photos of Past Smile Makeover Patients?
The best way to imagine the possibilities of your smile makeover results is to see other patients' before and after photos, especially those who had similar imperfections to your own that they wanted to address. These examples can help give you ideas of what treatments to ask about and allow you to explore the endless possibilities for your new smile.
How Long Will My Smile Makeover Results Last?
Not every cosmetic or restorative procedure offers results that will last a lifetime, in fact, many common treatments like teeth whitening may need to be refreshed over the course of the first couple of years. Based on your desires, along with the types of procedures that your cosmetic dentist feels you'd be an excellent candidate for, they can provide you with some maintenance advice for your new smile, along with the expected longevity of it.
What Types of Dental Problems Can Be Fixed with Smile Makeovers?
Smile makeovers are comprehensive dental treatments that can address a wide range of imperfections and functional issues with your smile, including two or more of the following problems:
Missing one or more teeth
Discolored or stained teeth
Severely misshapen teeth
Damaged or cracked teeth
Teeth that have been treated in the past
Misaligned teeth
Based on your discussion with your cosmetic dentist, they will recommend multiple treatment options to help address each of your concerns.
How Long Will My Smile Makeover Take?
One great benefit of smile makeovers is that they're custom-tailored to meet your specific needs, budget, and timeline. So, your dentist can outline a treatment plan based on each of these factors. If you require more basic treatments, like teeth whitening and dental bonding, these can be completed in as little as a single appointment. However, for more lengthy treatments, like Invisalign and veneers, you may need to complete the process over the course of multiple appointments or several months to get the results you desire.
A cosmetic dentist with experience in renovating smiles to improve their function and appearance will be happy to answer any questions or concerns you have during your consultation. With the information you need to feel confident to move forward with your treatment, you can have a more enjoyable and stress-free process.
About the Practice
At LIC Dental Associates, our team consists of four highly experienced cosmetic dentists with training in a variety of treatments, including Invisalign, veneers, dental implants, and much more. With a dedication to staying up-to-date with the latest techniques and treatments in their fields, our patients are highly satisfied with their clinically-proven results and high-quality care. For questions or to schedule a consultation for a smile makeover, visit our website or call 718-530-6539.