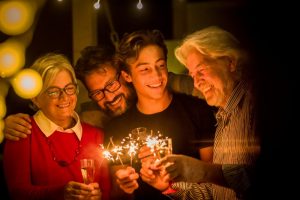 There's no better time to commit to new, healthier habits than the start of a New Year. With 2023 right around the corner, you're likely reflecting on all of the things that did and didn't go so well for you this year, thinking of how you can improve yourself and your health. One of the best and easiest places to start is with your mouth! Taking small steps towards bettering your oral hygiene can not only keep you from having to endure lengthy cleanings every six months with your dentist, but also boost your overall wellbeing. Read on to learn three simple ways you can boost your health in 2023.
Don't Miss Two Days of Flossing in a Row
It's no surprise that most people aren't diligent flossers. However, flossing daily is the key to healthy gums and teeth. If you don't floss at all or only every once in awhile, take a small step towards doing it daily by trying not to miss two days in a row. Giving yourself a little slack and allowing yourself to miss a day is realistic, because sometimes you may feel too tired, but small, incremental improvements can drastically enhance your overall life.
Take Steps Towards Quitting Bad Habits, Like Smoking
Tobacco products can have a drastic impact on your oral and physical health, reducing the blood flow and saliva production in your mouth and leading to a higher risk of problems like gum disease and cavities. You're not going to be able to quit overnight, but taking the first steps towards doing so would be something big to celebrate in 2023! Consult with your regular physician for resources, tips, and safe practices when it comes to quitting smoking.
Don't Forget to Schedule Your Two Checkups & Cleanings
The American Dental Association states that in order to maintain healthy teeth and gums throughout your life, it's crucial to visit your dentist once every six months for a checkup and cleaning. These are typically covered in-full by dental insurance plans and allow your dentist to spot the small signs of oral health problems and treat them before they have a chance to progress.
Even though making small changes to your oral hygiene routine may not sound like a highly effective way to improve your wellbeing in 2023, it does more than you think! Recent research has connected common oral health problems, like gum disease, with an increase in medical conditions like heart disease, stroke, and Alzheimer's. This has shown that one of the best places to start improving your health in the new year is with small changes to your oral hygiene habits!
About the Practice
Our team at LIC Dental Associates is led by an impressive, skilled eight dentists, including an endodontist, periodontist, dental anesthesiologist, and pediatric dentist. Because of the vast knowledge of our team, families can bring all of their loved ones to see us, allowing them to receive the specialized and general care they need without having to travel to different practices. For questions or to schedule an appointment, visit our website or call 718-530-6539.