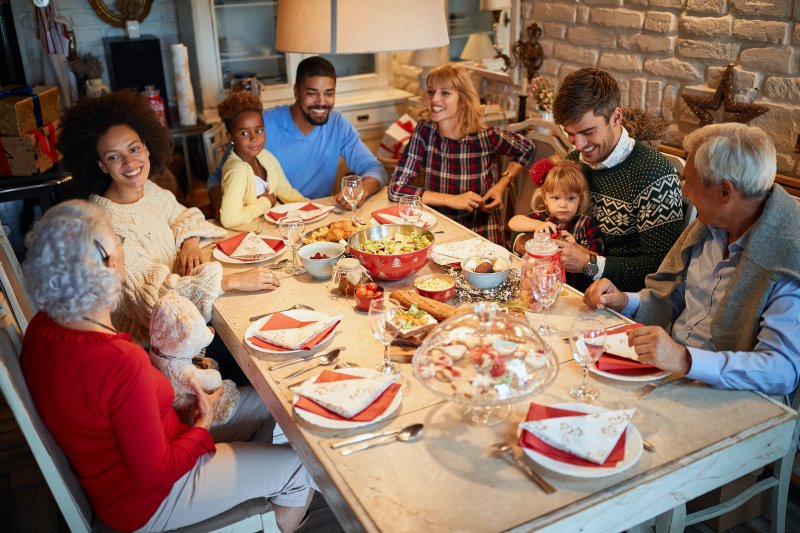 While the holiday season is a time full of magic and joy, that's not necessarily the case for your teeth. It's very easy to fall into all-too-common habits that can eventually lead to issues like decay and infection. Fortunately, there are many ways to lower your risk of these problems! Read on to learn which factors make the holidays bad for your oral health and what you can do to protect your smile.
What Makes the Holidays Bad for Your Oral Health?
There are many factors that can lead to tooth decay during the holidays. Some of those include:
Frequent snacking. From appetizers to leftovers, many people like to spend the holidays munching on seasonal foods throughout the day. Sadly, this habit can put your mouth at increased risk of cavities and decay. Your saliva won't have time to wash away unwanted particles and harmful bacteria.
Excessive sugar. During the holiday season, it's common to indulge in candy, pumpkin pie, candy canes, and other sweet treats. Of course, eating plenty of sugar can dramatically increase your chances of tooth decay if you're not careful.
Straying from normal routines. People are used to brushing after breakfast and once before bed. When you're away from home traveling or attending a late-night party, it can be easy to drift from your normal oral hygiene routine.
How to Protect Your Smile During the Holidays
Don't worry – the holidays don't have to end with a visit to your emergency dentist in Long Island City! There are many things you can do to keep your smile throughout these celebrations. Here are some tips to keep in mind:
Be mindful of the amount of sugar you're consuming! While you don't have to give up sweets altogether, you should make sure you're enjoying them in moderation.
Make a reminder on your phone so that you don't forget to brush and floss your teeth at designated times.
Drink plenty of water throughout the day to keep your mouth clean, especially if you're snacking more than usual.
Carry dental floss everywhere you go and always clean between your teeth whenever you're done eating.
When eating holiday meals, focus on foods that are good for oral health like cranberries, vegetables, turkey, and cheese.
Schedule a post-holiday dentist appointment to catch and treat any issues before they turn into complications.
The holiday season can be detrimental to your smile, but it doesn't have to be! As long as you're aware of the risks and take the right precautions, you can enjoy everything this time of year has to offer while keeping your oral health in tip-top shape.
About the Practice
At LIC Dental Associates, we strive to provide comprehensive and personalized care to patients of all ages. Our goal is to help everyone achieve their happiest, healthiest smiles. If you need more holiday oral health tips, don't hesitate to ask! You can reach an experienced team member via our website or call (718) 530-6539.