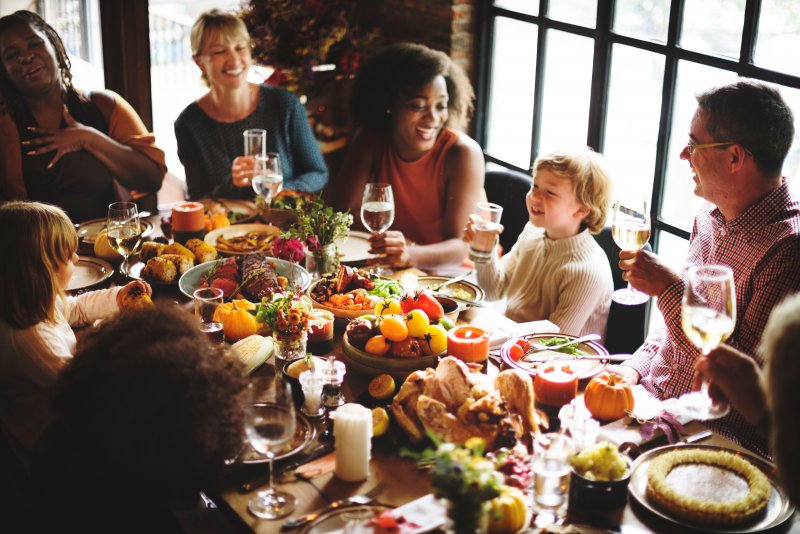 We've officially made it to that magical time of year! The holiday season is upon us. Many families are looking forward to all the gatherings and festivities that are yet to come. If you have dental implants, don't forget to show them some love this Thanksgiving. After all, they do so much for your appearance and oral health! Read on to learn a few ways you can show your appreciation for them.
Watch Your Diet
As you can imagine, it'll be harder than you think to resist all the sweet treats this holiday season. Of course, you should still do your best to limit your consumption of sugar. In addition, you should avoid hard and crunchy foods as they can physically harm your teeth. It'll help spare you a trip to your emergency dentist in Long Island City! Eating a healthy diet and avoiding problematic foods will help keep your smile in optimal condition. You should consume plenty of lean proteins, healthy fats, and complex carbs.
Don't Skip Brushing Before Bed
Brushing twice a day is incredibly important, especially during the holidays. You should never go to bed without brushing your teeth. Otherwise, it can cause leftover food particles and unwanted debris to wreak havoc on your pearly whites. Make sure you stay on top of your morning and nightly oral hygiene routine!
Stay Hydrated
Apple cider, mulled wine, eggnog, hot chocolate – there are many festive drinks to look forward to on Thanksgiving! While you may have a hard time resisting these delicious beverages, you should do your best to choose water whenever possible. It's truly the best drink for your health! It helps stimulate your mouth's natural flow of saliva and can rinse away leftover food particles.
Visit Your Dentist Regularly
The best way to show appreciation for your teeth is by visiting your dentist every six months. Staying on top of your routine checkups and cleanings will ensure your pearly whites stay clean and healthy. With the help of your dentist, you can lower your risk of oral health issues and prevent a dental emergency from occurring down the line.
Ready for Thanksgiving? Don't forget to show your teeth that you care with these tips. They'll keep your smile strong and healthy all season long!
About the Practice
At LIC Dental Associates, we want our patients to receive the exceptional, high-quality, and personalized dental care they deserve. From routine checkups to state-of-the-art dental implants, we're prepared to meet all your oral health needs. To learn more about how to care for your teeth this Thanksgiving, visit our website or call (718) 530-6539.