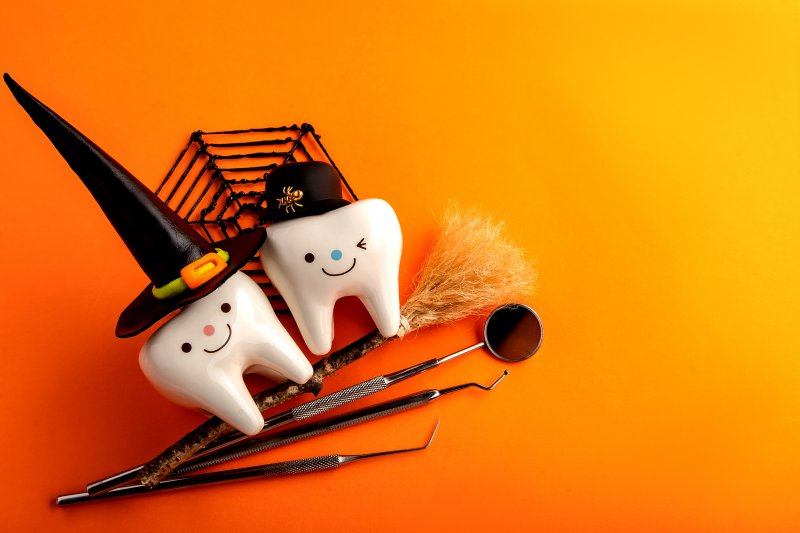 Your plan may be to wear a scary costume for Halloween this year. You might even use special makeup so your face looks super spooky! Whatever you do, though, don't make your smile scary with dirty teeth. Doing so might fit with your costume, but it'd also harm your oral health. In fact, your dentist in Long Island City is here to help you avoid that outcome. Therefore, read on to learn four ways to keep a healthy smile for your upcoming Halloween.
Be Picky About Candy Type
Some Halloween treats are worse for teeth than others. In other words, certain types are more likely to give you tooth decay, cavities, or worse.
As for which candies you should avoid, consider the ones below:
Sticky & Gummy Candies – These treats are delightfully chewy but awful for teeth. You see, they often stick to tooth surfaces for long periods. Doing so gives them more time to erode your enamel and trigger cavities.
Hard Candy – Lollipops, jawbreakers, and similar items erode your pearly whites by staying in your mouth for a while. Plus, biting hard candies can cause broken or cracked teeth.
Sour Candy – Sour candy is very acidic and erodes enamel. As such, it makes your teeth weak to cavities and decay.
If possible, only eat less-damaging candy — chocolate (milk or dark), sugar-free gum, etc.
Drink Lots of Water
Whether it's Halloween or any other day, drinking lots of water is a great idea. The liquid not only keeps your body hydrated, but it also protects your smile.
Unlike other drinks, water harmlessly rinses your mouth after a meal. Therefore, it removes food debris and bacteria that cling to teeth over time. Plus, the liquid moistens your mouth and thus limits the growth of harmful mouth bacteria.
Keep Up Your Oral Hygiene
Before and after Halloween, prevent candies from hurting your teeth with good oral hygiene. Namely, remember to brush your teeth twice daily and floss them once daily.
These tooth-cleaning habits work for various reasons. Firstly, brushing with a soft-bristled toothbrush will get sugar off of your teeth. Next, fluoridated toothpaste strengthens tooth enamel and protects it from decay. Even seemingly-simple dental floss removes bits of decay-causing bacteria and plaque that bristles can't reach.
However much you want the scariest costume around, don't give yourself a dirty smile this Halloween. Instead, practice the tips above — they'll help your teeth stay healthy for the spooky season.
About the Author
Dr. Ishwinder Saran is a dentist based in Long Island City, NY., having earned his DDM from the Boston University Goldman School of Dental Medicine. Besides general dentistry, his expertise extends to dental implants, fixed bridges, bruxism, TMD, and more. Since he stays updated on dental care with regular advanced training, you can trust him with your smile. Dr. Saran currently practices at LIC Dental Associates and is reachable on his website or by phone at (718)-280-3286.