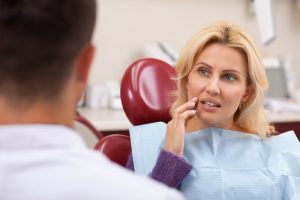 Have you noticed something off about your smile recently? It is not uncommon. People look in the mirror one morning and wonder if that gap has always been there or if their teeth always overlapped that way. Well, teeth move gradually over time, meaning you often won't notice until there's a significant change. Read on to learn more about the causes of teeth shifting and how Invisalign in Long Island City can help.
Common Causes of Teeth Shifting
Many people believe teeth can only move with orthodontic treatment, but that's not the case. These are a few reasons why shifting teeth may occur:
Teeth Grinding
Also known as bruxism, this is much more common than you may realize. Studies show that 10 percent of adults and 15 percent of children grind their teeth. It's a common stress response and often happens while you sleep. The pressure of grinding or clenching can shift your teeth through force and wear.
Periodontal Disease
Gingivitis and gum disease can destroy your gum tissue and jawbone, weakening your tooth's support system. If left untreated, the infection can spread and cause your teeth to shift.
Tooth Loss
Regardless of if it's age-related or from a sports injury, a gap in your smile can cause neighboring teeth to shift and change your overall bite. As the other teeth spread out, you may develop more gaps.
Aging
Like the rest of your body, your jawbone and associated structures change over the years. The ligaments, tissues, and fibers comprising the jaw become weak, causing the teeth to loosen and shift your bite. Your lips get thinner as you age and can push your teeth into a new position.
Jaw Movement
Over time, your lower jaw grows forward and becomes narrower, causing your lower teeth to crowd together and overlap. When the teeth become misaligned, it alters your bite and will eventually lead to the development of gaps in your upper teeth.
How Can My Dentist Help Correct My Shifting Teeth?
If your teeth have already moved, don't worry – there are several ways your dentist can get your bite back on track! You can achieve a straight smile once again with one of the following treatments:
Porcelain Veneers – These thin, customized porcelain shells can disguise severe stains, chips, or gaps. Veneers are a popular cosmetic treatment because they can give you a whiter, straighter, long-term smile solution in just two appointments.
Invisalign – These customized, clear aligners are a fast, discreet, and convenient orthodontic treatment. They can correct crowding and bite misalignment issues without the hassle of metal wires and brackets, plus get the job done sooner. No one may even notice you're wearing them.
Teeth shifting is a natural part of life. It can be discouraging if you don't address the issue, but thanks to modern dentistry your smile can look better than it ever has before!
About the Practice
At LIC Dental Associates, we've redesigned the patient experience to create a dental office that provides comprehensive, personalized care in a relaxing environment. Your health and comfort are always our priority. We feature top-tier amenities including hot neck and shoulder wraps, hot/cold face towels, a beverage and wine bar, plus much more. We are a Certified Invisalign Provider and offer customized veneers by utilizing all-digital impressions. Schedule a consultation on our website or call (718) 530-6539.