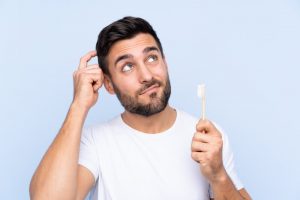 Most people may think they know how to keep their smiles as healthy as possible. After all, you've been told your entire life that brushing twice a day and flossing daily is the key to good oral health. But even if you're diligent about those practices, there are still errors you could be making in your oral hygiene routine – and they can put your mouth at risk. Read on as your dentist in Long Island City shares a few common teeth cleaning mistakes that make them cringe.
Only Brushing Once a Day
Do you brush twice a day? Some people only do it once – and that's a habit you should steer clear of. It can leave plaque at the gumline and cause inflammation. If left untreated, it can become advanced, and the tissue will start to peel away from the root of the tooth.
Thus, your chances of developing a gum or bone infection are much higher, and they could potentially lead to tooth loss. Avoid these severe dental issues by brushing your teeth twice a day with a soft-bristled toothbrush!
Ignoring Your Gums
Don't forget to brush your gums too. Although often overlooked, it's a crucial step in your oral care routine. If you fail to keep your gums clean, it can cause inflammation and increase your risk of gum disease and tooth loss. So, while brushing your teeth, be sure to gently brush your gums to prevent these complications.
Rarely Replacing Your Toothbrush
If you can't remember the last time you replaced your toothbrush, it's probably time to swap it out for a new one. According to the American Dental Association (ADA), you should replace your brush every 3-4 months – sooner if it becomes damaged or frayed – for optimal teeth cleaning. That's because they lose their cleaning capability over time and won't be as effective at removing plaque and bacteria. Also, you should replace your toothbrush after a cold, flu, stomach bug, or sore throat to avoid getting sick again.
Rushing Through Your Brushing Session
Did you know that most people spend 45 seconds brushing their teeth? That's much less than the suggested length of two minutes. It can be challenging to meet this recommendation, especially for younger children. Luckily, an electric toothbrush is an excellent solution! Most of them include a timer that lets you know when the two minutes are up.
Brushing Vigorously
Some people believe that brushing harder helps keep your teeth cleaner. However, this is far from the truth. Pressing too hard can wear away gum tissue and increase your risk of tooth decay. Once you erode gum tissue, the root's vulnerability to damage and sensitivity to temperature increases.
Fortunately, you can avoid these issues by following the proper brushing technique. Place your toothbrush at a 45-degree angle to the gums and gently move it back and forth in short, tooth-wide strokes.
To keep your teeth clean and healthy, be sure to avoid making the oral hygiene mistakes outlined above by your dentist in Long Island City. It's never too late to correct your habits and improve your oral health!
About the Practice
At LIC Dental Associates, we've redesigned the patient experience to create a dental office that provides comprehensive, personalized care in a relaxing environment. Your health and comfort are always our priority. We feature top-tier amenities including hot neck and shoulder wraps, hot/cold face towels, a beverage and wine bar, plus much more. When it's time for your next checkup and cleaning, we offer convenient hours, and be sure to ask about our LIC Dental Perks Program. Schedule an appointment on our website or call (718) 530-6539.