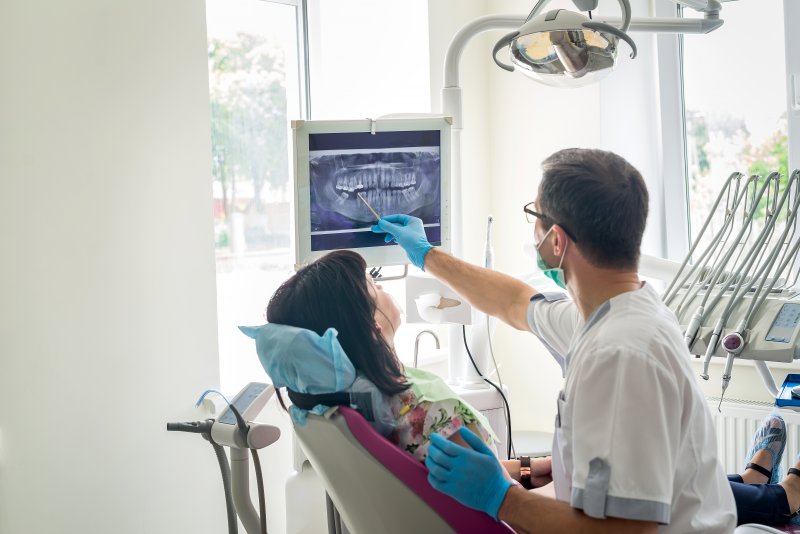 Though dentures are a great way to replace missing teeth and complete your smile, they are also notorious for slipping around in your mouth. This can make it difficult to eat and speak properly. For this reason, some patients decide that they want to switch to dental implants. Making the switch can be a bit difficult at first, so read on for help making the transition from dentures.
Before You Make the Switch
When you lose teeth, the jawbone in that area begins to erode due to lack of stimulation. At your dental implant consultation, your dentist will take X-rays so they can determine if there is any bone loss in your jaw. If you have experienced any jawbone loss, your dentist may recommend a bone graft to build up enough support to adequately hold your dental implants. Additionally, if you have gum disease or any other oral health issues, these will need to be treated before you proceed to prevent implant failure.
After Treatment
Once your new replacement teeth have been placed, they should begin to feel normal and comfortable in your mouth within two weeks. Even so, it will take four to six months for them to fully heal and fuse with the jawbone through a process called osseointegration. You should avoid eating hard and crunchy foods for the first 10-14 days post-surgery, as these can impede the healing process. Though dental implants have a 95% success rate and complications are rare, contact your dentist immediately if you notice any unusual redness, swelling, or pain.
Using Your Dental Implants
In some cases, your dentist may be able to modify your dentures so that they can be attached to your dental implants. Even so, they will likely have a new restoration created for you. Some things you can expect after making the transition from dentures to dental implants include:
No slipping –Since dental implants fuse with your jawbone, they are incredibly stable and won't slip in your mouth like dentures. Though this means you'll be able to eat almost anything with no issue, consume soft foods like soup, smoothies, cooked cereals, and mashed potatoes while you get used to them to ease the transition.
Permanence –Traditional dental implants can be cleaned as part of your normal oral hygiene routine, but removable implant supported dentures will still need to be taken out and cleaned as instructed by your dentist.
Getting used to things –When you first have your new implants placed, you may produce more saliva than usual because your body sees your new teeth as "foreign" objects. They should begin to feel and function just like your natural teeth within a few weeks.
The transition from dentures to dental implants will give you a more stable and long-lasting smile. Contact your dentist about switching to achieve the beautiful beam of your dreams!
About the Author
If you are considering making the switch from dentures to dental implants, LIC Dental Associates is here to help. They will explain the procedure to you from beginning to end to ensure that you're comfortable with the process and can also give you tips on how to transition to your new smile. Are you ready to set up an appointment with LIC Dental Associates or do you want more information on their tooth replacement options? Call their office at (718) 530-6539 or visit their website to get started.