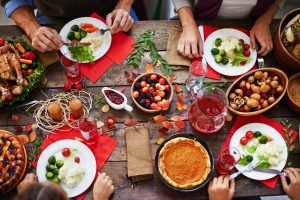 The festive season is upon us once again! While you may be busy planning your Thanksgiving dinner or shopping for gifts, don't forget to think about your oral health this time of year. Maintaining a healthy smile can be a challenge when so many sweet treats are around. However, it's possible to protect your teeth and enjoy the holidays. Check out the list below from a dentist in Long Island City to learn which holiday foods to avoid (or at least limit) in the coming weeks.
#1: Stuffing
Let's start with Thanksgiving stuffing. Whether it's served as a side dish or actually cooked inside a turkey, stuffing is surprisingly bad for your teeth. This starchy food is primarily composed of carbohydrates, which the body breaks down into sugar. The bacteria in your mouth feed on sugar and secrete harmful acids that attack enamel, causing holes or cavities to form.
#2: Candy Canes
Candy canes seem to hang from almost every holiday tree. However, not only are candy canes basically pure sugar, but they also stick to your teeth. This means the sugar lingers on your teeth longer, increasing the risk of tooth decay. While you can enjoy the occasional candy cane, this holiday treat should definitely be consumed in moderation.
#3: Eggnog
This controversial holiday drink provokes a lot of strong opinions. Some people love it, some people hate it. Do you know who definitely loves egg nog? Oral bacteria! That's because egg nog is loaded with sugar, which bacteria digest to produce harmful acids. This thick holiday beverage also contains alcohol, which isn't great for your teeth either. If you want a flavorful, relaxing drink, try hot green tea, which helps prevent decay and improves gum health.
#4: Dried Fruit
Fruit is typically considered a healthy food group, but dried fruits are both sticky and contain high sugar content. Apricots, dates, or other dried fruits can easily get stuck in between teeth and contribute to tooth decay. If you do snack on dried fruits during the holidays, be sure to brush and floss afterward.
#5: Dessert
Cookies, cake, brownies, pie – it should go without saying, but sugary baked goods are not good for your dental health. When navigating all the office parties and family get-togethers, try to limit how many times you visit the dessert table. In addition, don't forget to thoroughly brush your teeth when you get home afterward!
Preventing cavities during the festive season is possible if you know what holiday foods and drinks to consume in moderation. Keep the above information in mind as you celebrate the upcoming festivities. Happy holidays!
About the Author
Dr. Ishwinder Saran is committed to helping residents of Long Island City and surrounding areas maintain healthy smiles all year round. An active member of the American Dental Association, he regularly provides dental exams and cleanings and other preventive oral care. For more tips to protect your teeth during the holiday season, visit the LIC Dental Associates website or call 718-530-6539.