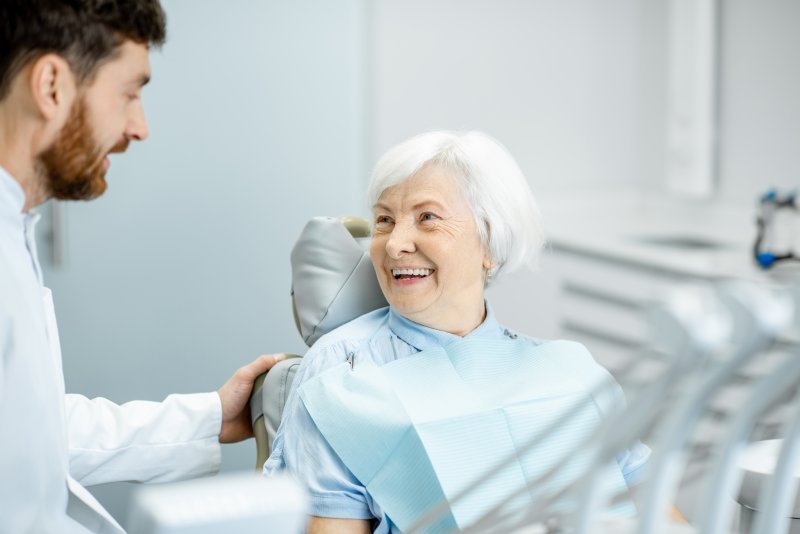 Over time, our smiles begin to show signs of aging. Though this is natural, there are a variety of cosmetic treatments that can turn back the clock and make patients look younger. Continue reading to learn more about common smile issues that may occur as you get older and how a cosmetic dentist in Long Island City can help you maintain that youthful glow.
5 Dental Issues that Develop with Age
It's normal for certain dental issues to develop as we get older, but that doesn't make them any less of a hassle to deal with. A few common ones include:
Crooked teeth – Teeth tend to shift over time, which gives them a crooked or uneven appearance.
Enamel and tooth wear –Eating several times each day for decades straight begins to wear away tooth enamel as well as wear down teeth.
Fragile teeth – Our teeth tend to weaken as we age. This makes them more prone to cracks, chips, and other forms of damage.
Stained teeth – After decades of eating and drinking highly pigmented things or using tobacco products, the teeth will likely be stained and less vibrant than they were before.
Discolored teeth – Since tooth enamel wears away as we get older and reveals the yellow dentin underneath, this can make teeth appear to be discolored.
How Cosmetic Dentistry Can Make You Look Younger
Luckily, cosmetic dentistry can help. If your teeth are chipped, slightly misaligned, discolored, or have small gaps between them, porcelain veneers or dental bonding may be for you. Veneers are thin, porcelain shells that cover the front surface of a tooth to mask minor imperfections. Dental bonding uses composite resin to protect damaged teeth from further harm. Both are color-matched to your natural teeth, so they blend in seamlessly with your smile.
Whitening can brighten your smile by removing stains from the teeth. In-office whitening gives you noticeable results in just one session, and take-home kits allow you to whiten your smile at home and on your own schedule. Though you can purchase over-the-counter products from most grocery or drug stores, these are less safe and not as effective as professional whitening.
If you have a "gummy" smile, gum recontouring can be used to sculpt your gum line into a more attractive shape. This process involves a soft tissue laser, which is used to eliminate excess tissue to reveal more of the tooth underneath.
A brighter, more youthful smile is within reach with cosmetic dentistry. Speak with your Long Island City cosmetic dentist to determine which treatment options are right for you so you can enjoy a confident, more beautiful smile!
About the Author
LIC Dental Associates has redesigned the patients' dental office experience by providing comprehensive, personalized care in a stress-free environment. They offer a range of services to patients of all ages and aim to make treatment as comfortable and effective as possible. Additionally, they can help revitalize aging smiles so they look as bright and youthful as ever. Call LIC Dental Associates' office at (718) 530-6539 or visit their website for more information about their cosmetic dentistry offerings or to schedule an appointment.