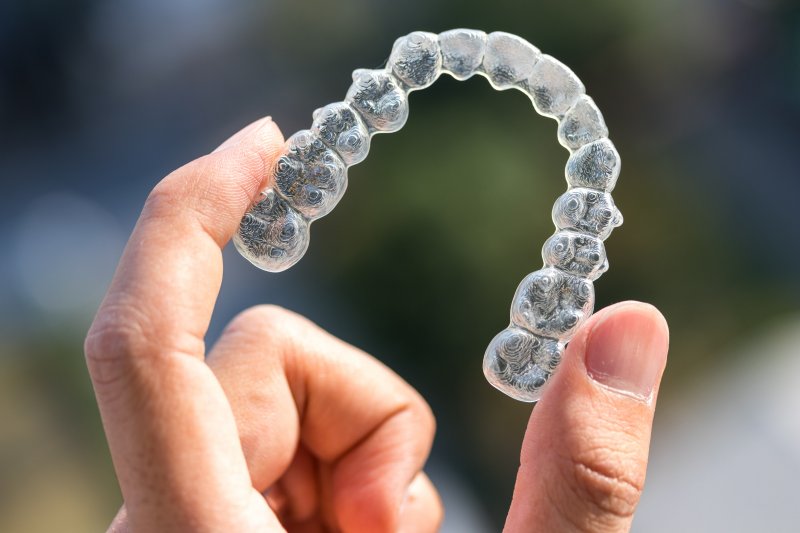 Did you recently start Invisalign treatment in Long Island City? It's an excellent solution for crooked or misaligned teeth, helping patients achieve a straighter smile without the hassle of metal wires and brackets. Although one of the main benefits of the clear aligners is their subtlety, all that discreetness goes out the window if you fail to take proper care of them. Fortunately, here are some easy steps you can take to keep your aligners clean and safe.
Stick to an Oral Hygiene Routine
For successful Invisalign treatment, you must wear your aligners for at least 20 to 22 hours a day, which means you'll have to wear them at night as well. Unfortunately, bacteria like to accumulate on your teeth and aligners while you sleep. To eliminate the harmful pathogens, you'll need to clean your teeth and trays first thing in the morning. Therefore, it's crucial to establish a good oral hygiene routine you can follow morning and night to keep your mouth free of dental problems.
Rinse Your Aligners Thoroughly
Eventually, you'll need to take out your aligners long enough to eat and drink. When that happens, you should rinse your trays thoroughly before slipping them back into your mouth. Doing so will help keep the saliva and plaque buildup in your mouth to a minimum. Don't forget to brush or rinse your teeth before putting the aligners back in as well!
Soak Your Aligners At Least Once a Day
Sometimes, your aligners will have stubborn food particles and other gunk that brushing won't be able to take care of. Luckily, you can keep your trays looking their very best by soaking them at least once a day. To use this approach, soak your aligners in Invisalign cleaning crystals or denture cleanser for a few minutes. Once they're done, give them a good brushing to remove excess plaque.
Always Remove Your Aligners Before Eating
One advantage of Invisalign is that there are no dietary restrictions while undergoing treatment. However, that's only because you're not supposed to eat or drink anything that's not water while the aligners are in your mouth. The pressure from chewing can damage the trays and cause food particles to get stuck in them. Also, consuming colorful foods and drinks can cause staining, making the aligners look dirty and noticeable.
Never Leave Your Aligners Out in the Open
Whenever the aligners aren't in your mouth, make sure they're properly stored in their designated case! You should never leave them exposed to open air – bacteria will form, and your chances of misplacing the trays are much higher. If you accidentally leave them lying out in the open, give the aligners a good rinse before slipping them back in your mouth!
As you can see, keeping your Invisalign aligners clean and safe will help you get the most out of treatment. By following the tips outlined above, you can ensure your orthodontic work goes unnoticed by other people!
About the Practice
At LIC Dental Associates, we provide comprehensive, individually tailored, high-quality care that's guaranteed to exceed even your highest expectations. Our team uses the latest technologies, techniques, and materials to give you a smile you'll proudly show off. If you recently started Invisalign in Long Island City, we'll be there every step of the way to ensure successful treatment. For more cleaning tips, visit our website or call (718) 530-6539.