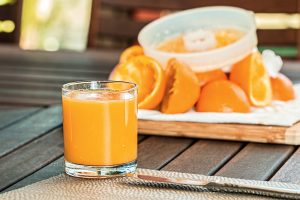 Summer is here, which means you want to look and feel your best. To get your body swimsuit ready, you've seen several fad diets that claim to help you shed weight quickly. In your anticipation to start your diet, you may not consider the consequences it can have on your dental health. Here are 2 popular diet trends that can harm your smile.
1. Juice Cleanses
It's a common belief that juice cleanses are healthy because your body needs nutrients from fruits and vegetables. While many top celebrities claim they are an excellent means to detoxify the digestive system, this isn't necessary. Nutrition experts say your digestive tract doesn't need detoxifying. Not to mention, when you juice a fruit or vegetable, you miss out on the dietary fiber and other nutrients your body needs to function.
Not only are juice cleanses bad for your body, but also your smile. Many juices are acidic or contain a lot of sugar. Both are known to erode your enamel. You'll have an added risk of tooth sensitivity and cavities. Your teeth will also discolor as you lose enamel, but the risks don't stop there.
Without the proper calorie intake, your insulin levels can affect the collagen fibers that hold your teeth in place. Without adequate nutrition, the fibers will weaken, which can cause your teeth to loosen and eventually fall out. If you decide to follow a juice cleanse, don't do it for more than a day or two. Be sure to brush your teeth after drinking juice.
2. Raw Food Diets
A raw food diet consists of foods that don't contain any chemicals or preservatives. While this can be amazing for your general health, certain raw foods can harm your smile. Many of the diets contain seeds, which can get stuck between your teeth or in your gums, leading to bacteria growth and possible infections.
Many people on raw food diets eat a lot of nuts, which are great sources of protein. Although they are a healthy snack, those that are overly hard can lead to a broken or fractured tooth. Studies have shown raw food diets can lead to other oral health problems as well.
If you choose to follow a raw diet, pick foods that won't hurt your smile, like apples or spinach. Not only are they tasty treats, but they support healthy teeth and gums.
Promote a Healthy Mouth and Body
There isn't any substitute for a healthy diet to lose weight while also having all the energy you need to enjoy summer. Choose a variety of healthy foods to maintain a balanced diet to support your oral and general health.
About Dr. Hayley Bindner
Dr. Bindner earned her dental degree at Boston University before completing additional training at the Wyckoff Heights Medical Center. She strives to help her patients achieve healthy, beautiful smiles. If you have any questions about the foods you're eating and their effects on your dental health, don't hesitate to contact our office. A member of our team will provide the information you need to make the best decisions for your smile.