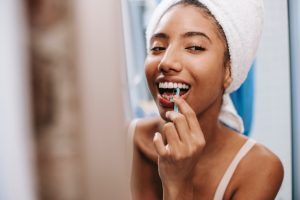 A solid home oral hygiene routine is crucial to maintaining a healthy smile. Although you might believe brushing is enough, your dentist also recommends flossing daily. While you might view it as a chore, do you know why flossing is important? Tooth decay isn't the only threat to your oral health. Here are 5 reasons to commit to daily flossing.
1. Your Toothbrush Can't Reach Everywhere
Even the best brushing technique can't reach everywhere in your mouth, like between your teeth. If you aren't flossing daily, you're leaving as much as 40% of your teeth uncleaned. It's the only way to remove food debris, bacteria, and plaque from hard-to-reach places.
2. Prevent Gum Disease
Next to tooth decay, gum disease is equally devastating. It's caused by bacteria found in plaque and tartar buildup that has accumulated from poor oral hygiene habits, like not flossing. Although the infection is preventable, at least 50% of Americans have it, and it's the leading cause of tooth loss. Reaching for floss every day is a simple way to protect your gum health to prevent losing teeth.
3. Mouth and Body Connection
Your mouth is the gateway to your body. Research shows your dental health is linked to your overall well-being. Oral health issues can significantly increase your risk of certain medical concerns. Gum disease is connected to various health problems, including cardiovascular disease, Alzheimer's disease, respiratory infections, diabetic complications, and preterm labor. Your smile relies on the benefits of flossing to support a healthy mouth and body.
4. Plaque Hardens Quickly
Many people believe flossing occasionally is adequate because it takes time for plaque to harden, but this isn't true. Research shows it can occur within hours of eating. After 48 hours have passed, the sticky film will require a trip to your dentist to remove it. You can keep your smile looking its best and gum disease at bay by taking the time to clean between each tooth before heading to bed.
5. Your Gums Will Stop Bleeding
If you don't floss because your gums bleed, it's not a sign you should skip it. The bleeding is caused by the first stage of gum disease, called gingivitis. Treating the infection before it worsens requires improving your oral hygiene habits, like flossing. Taking the time to carefully clean between your teeth is the solution to get the bleeding to stop.
Start Flossing Today
It's never too late to recommit to daily flossing. Choose high-quality dental floss that has earned the American Dental Association's Seal of Acceptance. Don't forget to visit your dentist at least twice a year for a cleaning and checkup.
About Dr. Sheryl Lee
Dr. Lee earned her dental degree at the New York University College of Dentistry. She strives to help each patient achieve their best smile using modern treatments and technologies. As a member of the American Dental Association and the Second District Dental Society, she has the qualifications you can trust. If you have signs of gum disease, contact our office today for an appointment.