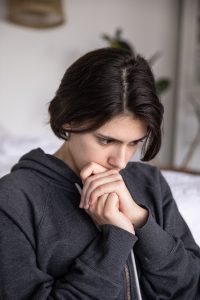 Do your palms sweat when it's time to visit your dentist in Long Island City? You're not alone. Research shows between 50% to 80% of adults in the U.S. experience some degree of dental anxiety. Don't let your fears or phobias prevent you from getting the care you need to maintain a healthy smile. Here are 6 tips to beat dental anxieties for stress-free appointments.
1. Express Your Concerns
Many people don't like to talk about the way they feel because they may believe it makes them appear vulnerable or weak, but this couldn't be further from the truth. Your dentist understands every patient has unique comfort levels and requirements. It's important to communicate your concerns with your dental team, so they can work to address your apprehensions to enjoy your time in the office.
2. Listen to Relaxing Music
It's not uncommon for patients to be uncomfortable with the sounds of the dental office, like the noise from a drill or suction device. Listening to relaxing music on headphones can decrease the sounds that cause your anxiety to rise. You can even play your favorite song before your appointment to help you remain calm leading up to your visit.
3. Create Hand Signals
It can be difficult to communicate with your dentist while they are working on your mouth. If you're unable to speak, hand signals are a great way to alert your dental team to your discomfort or that you need a break. It's a simple but powerful tool to take control of your anxieties during your treatments.
4. Choose the Right Dentist
You have unique oral health needs and expectations, which means not all dentists will be the right fit for you. Take your time to choose a dentist who offers the services and amenities you need while also providing a certain chairside manner to help you relax.
5. Control Your Breathing
When you're nervous, you might have a subconscious habit of holding your breath. If your oxygen levels are depleted, it can increase your nervousness. Pay attention to your breathing to help you stay calm while taking your mind off what's going on in the office.
6. Consider Sedation
Sedation dentistry is an excellent option for patients who suffer from mild-to-moderate dental-related phobias and anxieties. There are multiple types available depending on your specific needs. Your dentist will determine which sedative will work best, so you don't have anything to worry about while you're in the dental chair.
Sit Back and Relax
Don't fret about your upcoming dental appointment. Your dentist will create the individualized plan you need to relax to reach your oral health goals.
About Dr. Ishwinder Saran
Dr. Saran strives to build trusted relationships with his patients to provide high-quality care through personalized treatments. Besides earning his dental degree, he has extensive continuing education in many specialties, including sedation dentistry. He can help you conquer your dental fears to maintain a commitment to your oral health. Contact our office today to learn more.