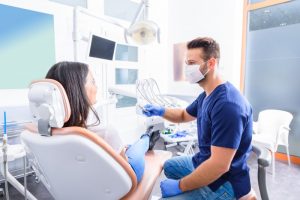 A dental crown can be used to replace a severely damaged or missing tooth. In doing so, it restores the functionality and smile aesthetics that were previously compromised. Once you've had a crown placed, it's only natural to wonder how long it will last. Continue reading to find out from a skilled dentist in Long Island City.
The Typical Longevity of a Dental Crown
Usually, you can expect a dental crown to last for five to 15 years. However, its longevity is ultimately dependent on how well you care for it. With the right habits, many patients' crowns last even longer – in some cases, up to 20 years.
How to Extend the Life of Your Dental Crown
One way to get more mileage out of your crown is to practice excellent dental hygiene. Your regimen should include brushing and flossing at least two times a day to keep oral bacteria growth under control. While a porcelain crown isn't subject to decay, bacteria can work their way beneath the restoration to cause gum and tooth decay. The more diligent your dental hygiene efforts are, the greater your chances of enjoying a longer lasting crown.
It's also crucial that you maintain semi-annual dental appointments. In addition to providing a thorough cleaning, these visits also allow the dentist to carefully examine the condition of your crown and every other aspect of your oral health. Therefore, if there are any issues, they can be addressed in a timely fashion.
Bad Habits to Avoid
While there are certain habits that can extend the life of a crown, there are yet others that can cut it short. You should avoid the following:
Teeth grinding – Also referred to as bruxism, teeth grinding places unnatural pressure on your teeth and can cause a crown to crack or become loose. A damaged or poorly fitting restoration can also allow harmful bacteria to seep beneath the tooth and cause an infection.
Fingernail biting – Your teeth aren't designed for biting into hard and brittle fingernails. Doing so can lead to a dental emergency.
Overindulging in sugar – The more sugar you consume, the greater the number of oral bacteria that will be present in your mouth. This increases the chance of plaque development that could place your crown in jeopardy.
You're in Control
It's empowering to know that you have some say-so in the future of your oral health. By following the above tips, you can look forward to an extended dental crown lifespan and the aesthetics and usability that comes along with it!
About the Author
Dr. Ishwinder Saran earned his dental degree from the Boston University Goldman School of Dental Medicine. Throughout his career, he has remained an active and eager learner, taking several hours of continuing education, which includes training in a host of restorative dentistry procedures. Dr. Saran fully revamps smiles with dental crowns, and he can be reached for more information or to schedule a visit through his website.