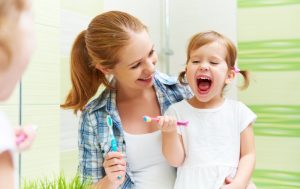 Every loving parent or caretaker wants to ensure that their children stay as healthy as possible. February is Children's Dental Health Month, so it's the perfect time to start helping your child set their smile up for success in the long run. Perhaps you had the benefit of growing up in a home where you learned what proper oral hygiene looked like, but even if that wasn't the case, you have the opportunity to give your child the gift of a beautiful smile that they can be proud of. Keep reading to learn some tips that can help guide you.  
Tips to Help You Set Your Child's Smile Up for Success
Beautiful smiles with natural teeth don't happen on their own. While it's true that genetics do affect oral health, adults who have great teeth likely learned how to care for them at a young age. Now is the best time to start instilling an understanding of the importance of proper oral care, and here are a few tips to help you do it:
Don't Skip Regular Dental Checkups and Cleanings
Your life is probably busy, and between school, sports, or weekly events, your child's probably is too. It can be easy to put regular visits to the dentist on the back burner, or even to forget about them. Preventive oral care is one of the most important things you can focus on when it comes to keeping your child's teeth ad gums healthy. Their dentist can identify issues with a trained eye before they become larger problems. This will not only prevent decay and infection later on, but it will also save you time and money on costly treatments. Plus, if your child sees you prioritizing dental health care, they're more likely to follow in your footsteps.
Make Sure They Eat Plenty of Fruits and Vegetables
There is a reason that doctors stress the importance of a balanced diet that contains fruits and vegetables. Not only are they vital for your child's growing body, but they also help their teeth stay strong and their gums stay healthy because they are packed with tons of essential vitamins and minerals. In fact, some fruits and veggies, such as apples and celery, contain enough fiber in them to actually help clean your child's teeth while they eat!
Stress the Importance of Brushing and Flossing
Many parents are often happy if they can just convince their children to brush their teeth every day, and it's commonly not an easy task. Naturally, flossing often falls to the wayside, but that doesn't make it any less important. Flossing is crucial to keeping gums safe from infection, as it helps to dislodge bacteria around them. Additionally, it removes plaque from the hard-to-reach spots in between teeth that a toothbrush can't get to.
Limit Their Sugar Intake
The older your child gets, the less control you will have over what they consume. That's why it's important to teach them healthy diet practices at a young age so that they will hopefully carry them into adulthood. Sugar is the primary catalyst when it comes to cavities, so be sure to limit how much your child consumes in order to prevent tooth decay.
Your child is always watching you, and they will learn by your example. Be sure to show them how important it is to take good care of their teeth so that they can enjoy a better quality of life and love their smile later on!
About the Practice
If you're searching for the best pediatric dental care around for your child, then look no further than the team of expert dentists at Long Island City Dental Associates. They understand the importance of teaching children to value oral health when they are young, and they love to watch their patients grow up with smiles they are proud of. Their years of expertise and training make their practice the perfect location for your child's next dental checkup. You can schedule an appointment online or call us at (718) 530-6539.