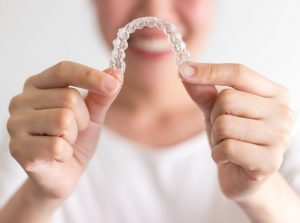 If you've always wanted a straighter smile but hated the idea of having a mouth full of metal, then Invisalign clear braces  may be exactly what you're looking for! This unique orthodontic treatment uses a completely different process that lets you bypass practically all the downfalls of traditional braces. Of course, before jumping right into your journey towards a straighter smile, you'll want to know what to expect. During your initial consultation, your dentist will go over all the information you need and address your specific concerns before you commit to a treatment plan. In the meantime, keep reading for a step-by-step breakdown of how the process for Invisalign in Long Island City works.
Step 1: The Consultation
If you're interested in getting Invisalign, your first step is to schedule a consultation with your dentist. During this initial appointment, they'll carefully examine your teeth, gums, jaws, bite, and overall oral health to see if Invisalign is right for you. While Invisalign can correct mild to moderate orthodontic issues, there are certain complicated conditions that are more effectively treated by traditional braces. Additionally, it's important that your mouth is free of gum disease and cavities before you begin your treatment to ensure your smile stays healthy as it's being straightened.
Step 2: Treatment Planning
Once you've completed any necessary treatments, your dentist will take impressions of your mouth. This information will be used to plan out your entire treatment and create your series of clear aligners. At this point, they will be able to give you a personalized estimate of how long your treatment will take.
Step 3: Getting Your Aligners
It will take a few weeks for your first several sets of aligners to be created, then you'll return to your dentist's office to pick them up. While you're there, you'll try on your first set of aligners so your dentist can make any adjustments for your comfort as needed. They'll teach you how to properly put in and take out your aligners, and you'll also learn how to clean them, care for them, and handle them in daily life.
Step 4: Follow-Up Appointments
You'll wear each set of aligners for about 20-22 hours every day for two weeks before switching to your next set. Periodically, you'll return to your dentist's office for checkups. During these quick appointments, your dentist will ensure your treatment is on track and give you your next several sets of aligners.
Step 5: Retainer Fitting
Once your teeth are finally in the correct positions, and you've completed your entire series of aligners, you'll receive your custom retainers. These plastic trays will help hold your teeth in place and prevent your smile from becoming crooked once again. As long as you follow your dentist's instructions, you can easily enjoy your straightened pearly whites for life!
About the Practice
Dr. Ishwinder Saran of LIC Dental Associates is proud to provide comfortable and high-quality dentistry to the smiles of Long Island City and the surrounding communities. To meet all his patients' oral health needs under one roof, he and his team of specialists use the latest dental technology and techniques. Dr. Saran is a Certified Invisalign Provider, and he has helped countless patients achieve the happy, healthy, and beautiful smiles they deserve. To start your Invisalign journey, he can be contacted via his website or at (718) 530-6539.