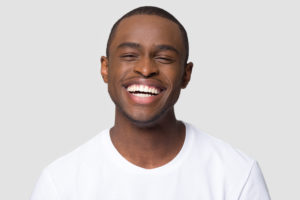 Between all the fall-flavored treats, Halloween candy, and busy end-of-the-year schedules, October can be a tough month for your smile. Thankfully, October is also National Dental Hygiene Month! It's the perfect time to start taking better care of your oral health with a few simple yet effective changes to your everyday life. Your Long Island City dentist shares five healthy habits you can start practicing this month to achieve healthier teeth and gums!
1.) Practice a Thorough Oral Hygiene Routine
Do you only spend a few minutes brushing your teeth before rushing out the door in the morning or crawling into bed at night? If so, you're putting yourself at a much higher risk of oral health issues such as tooth decay and gum disease. To prevent serious problems from developing over time, make sure you:
Brush your teeth for two minutes twice a day.
Floss between your teeth daily.
Rinse with an antiseptic or fluoridated mouthwash regularly.
2.) Don't Give Up on Flossing If You Find It Difficult
Many people don't floss as often as they should because they find it awkward, difficult, or uncomfortable. However, there are plenty of ways to make this important part of your dental routine easier! Try using a high-quality waxed dental floss, a floss pick, or a pre-threaded flosser to make this task more intuitive. Remember, the more you floss, the less painful and awkward it will feel!
3.) Make Sure to Use the Right Dental Products
If you're using the wrong tools to clean your teeth, you may be doing more harm than good! Make sure you're using:
Soft-bristled toothbrush: Toothbrushes with medium or hard bristles can wear down your enamel and cause weakened, sensitive teeth that are more prone to damage and decay.
Non-abrasive toothpaste: Frequently using whitening toothpastes can scratch away at the surface of your teeth, so primarily use a fluoridated toothpaste instead.
Antiseptic or fluoridated mouthwash: Cosmetic mouthwashes only mask bad breath. To clear away stinky bacteria and strengthen your teeth, use a fluoridated or antiseptic product!
4.) Drink More Water
Not only is staying hydrated good for your overall wellbeing, but it can also help lower your risk of tooth decay as well! Drinking water throughout the day washes away lingering sugars, acids, and residue on your teeth that would otherwise cause cavities. Staying hydrated also encourages the production of saliva, which is your body's natural tooth decay deterrent.
5.) Eat More Crunchy Fruits & Vegetables
Another easy way to improve your health and simultaneously lower your risk of cavities is to eat more crunchy fruits and vegetables. These foods are high in fiber and gently scrub your teeth as you chew them, which brushes away plaque and bacteria. They also encourage saliva production and healthier gum tissue.
A few simple healthy habits can go a long way in keeping your smile happy, healthy, and intact for life. This October, start implementing these tips into your everyday life for healthier teeth and gums!
About the Practice
At LIC Dental Associates, we strive to make optimal oral health an achievable goal for all the smiles of Long Island City and the surrounding communities. We're proud to offer a comprehensive menu of dental services, the latest dental technology, and an accomplished team of dental experts to help you overcome whatever issues stand between you and your ideal smile. With evening and weekend appointments available and a variety of payment options, getting healthier teeth and gums has never been easier. To learn more, they can be contacted via their website or at (718) 530-6539.