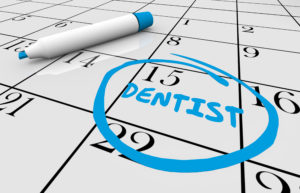 Your biannual dental checkups and cleanings are about more than just polishing your teeth and looking for cavities. Regular preventive care plays a key role in maintaining optimal oral health, treating oral health issues as early as possible, and even monitoring your overall wellbeing. However, in the hustle and bustle of our everyday lives, it can be easy for these important visits to accidentally fall by the wayside. Thankfully there are a few simple ways you can make getting regular dental care easier. Read on as your Long Island City dentist shares three tips for making and keeping your biannual dental checkups.
Tip #1: Schedule Your Next Appointment Before Leaving the Office
The first step towards regularly visiting your dentist for checkups is to remember to schedule your appointment. Unfortunately, since most of us don't spend too much time thinking about our regular dental exams on a daily basis, it can be easy to simply forget about them.
The best way to make sure you have a visit scheduled every six months or so is to make your next dental appointment before leaving your first. You may not know exactly what you'll be doing in six months, but it's better to have a visit on the books and reschedule if needed than hoping you'll remember yourself. If you don't have an appointment coming up, call or email your dentist about scheduling your visit as soon as you think about it—scheduling your visit will only take a few minutes!
Tip #2: Set Calendar Reminders in Advance
Six months is a long time to remember and anticipate your next dental appointment. Even if you have it marked on a calendar, it can sneak up on you and cause scheduling conflicts or inconveniences. Instead, add a few reminders a few weeks ahead of your appointment. Not only will this help you remember that your appointment is coming up, but you'll also be able to plan around it or reschedule with plenty of time in case something comes up.
The key is to place the reminders somewhere you'll see them. If you use a calendar or planner, write down your reminders or use sticky notes. You can also set reminders or alerts on your smartphone if you prefer.
Tip #3: Incorporate Dental Visits into Your Yearly Routine
When making your dental appointments, try to schedule them for the same season each year. Incorporating regular checkups into your yearly routine will help you naturally remember when they're coming up. It's a good idea to avoid scheduling them in months where you'll be busy, such as back-to-school or the winter holidays. Instead, try visiting your dentist at the start of a new year or at the beginning of summer.
Visiting your dentist every six months, even when your teeth look and feel fine, plays a huge role in detecting oral health issues like tooth decay, gum disease, and oral cancer as early as possible.
About the Practice
The talented team at LIC Dental Associates is proud to offer a comprehensive menu of excellent dental services for the smiles of Long Island City, NY and the surrounding communities. While they can help you overcome nearly any oral health issue, they'd much rather prevent problems from developing in the first place! They utilize a welcoming environment alongside state-of-the-art dental technology to ensure that your regular dental checkups are as pleasant as possible. To schedule yours, feel free to contact them via their website or at (718) 530-6539.