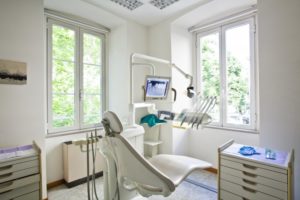 From getting groceries to connecting with family, the COVID-19 pandemic has changed the definition of "normal" in our everyday lives. Even your next dental appointment will look very different than it has before! A variety of new infection control protocols have been established to ensure you are as safe and comfortable as possible while receiving the dental care you need. Find out how your Long Island City dentist is safeguarding your health during your next appointment.
Making Your Appointment
Your dental team is working hard to keep you safe before you even make your appointment. When you call to schedule your visit, you may notice that you're offered fewer times than you're used to. Sequenced patient scheduling means that your dentist is seeing fewer patients and allocating more time between appointments for coming, going, and cleaning. They also have hours dedicated exclusively for patients who are older, have underlying conditions, or are at-risk of complications from COVID-19.
Arriving to the Practice
Previously, you would walk into the dental office, check in at the front desk, and wait in the reception area with the other patients. Now when you arrive for your appointment, you can expect:
Checking in from your car: To minimize your exposure to others, your dentist has implemented a virtual waiting room. You can check in for your appointment from the comfort of your car, then bypass the reception area and go directly to your treatment room when it's ready.
A quick patient screening: All patients will answer a short health questionnaire and have their temperature checked before entering the clinical area.
Changes to the reception area: As soon as you walk into the practice, you'll notice that magazines, toys, and several chairs have been removed to limit frequently touched surfaces. You'll also notice the new clear plastic barriers and hum of HEPA air filters.
During Your Treatment
Before receiving your dental care, you'll be asked to utilize the hospital-grade hand sanitizer and rinse your mouth with an anti-microbial mouthwash. When you sit down in the examination chair, you'll find that your dentist has installed advanced chairside suction machines that minimize aerosol contamination. You'll also see that there have been a few additions to your dental team's working wardrobes, including face shields, disposable coats, and shoe coverings.
After Your Appointment
In the past, you may have had your dental work completed over several appointments. To reduce how many times you need to visit the office, you may be offered an extended appointment in order for your dentist to get more work. Some follow-up visits may be able to be completed via teledentistry and a secure, online patient communication portal from the safety of your home.
The COVID-19 pandemic may have changed what your dental visits look like, but it hasn't changed your dentist's commitment to your wellbeing. By enhancing their dental safety and health precautions, they are prepared to keep you and your smile healthy when you need it most.
About the Practice
LIC Dental Associates has spent the last several weeks strengthening the safety protocols we have invariably focused on. We will continue to meet the ambitious infection control standards set forth by the Centers for Disease Control and Prevention and use the most-cutting-edge technology for the safety and comfort of our patients. With careful consideration, our experienced team of dentists have implemented 29 additional steps to their excellent standard of care to ensure the wellbeing of our patients, staff, and community. If you have any questions or concerns, please reach us via our website or at (718) 530-6539.