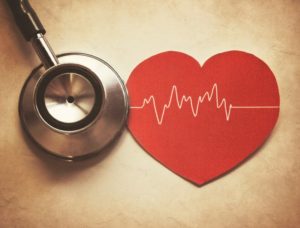 The human body is complex and incredibly complicated, and for decades, scientists have been working on how each part is connected to gain a better idea of what it takes to maintain great overall health. One interesting link was made between gum disease and an increased risk of heart issues such as strokes. This groundbreaking connection showed that people who protect and maintain their oral health can avoid serious medical conditions down the road. Read on to learn what the research says and how you can protect your wellbeing.
Connecting Heart Health & Gum Disease
There have been countless studies conducted that look at the relationship between gum disease and various medical conditions, but to honor American Heart Month, it's the best time to take a look at a study on heart health. In 2014, researchers conducted a study that looked at a group of participants who had both gum disease and heart problems. They found that the participants who received treatment for their gum disease to control its advancement had 10 to 40 percent lower cardiovascular care costs than the participants who didn't receive proper oral care. These findings determined that gum health is connected to worsening heart issues.
Another set of researchers decided to review several studies that analyzed the link between the two conditions. They found that gum disease can increase the risk of heart disease by about 20 percent. With years of research to back both of these conclusions, the American Dental Association as well as the American Heart Association have both acknowledged the connection between gum disease and heart disease.
Symptoms of Gum Disease
The best way to protect yourself from the long-term effects of gum disease is to diagnose and treat the issue early. Even though this is a common oral health problem, it can go undiagnosed and be left to progress without regular visits to your dentist in Long Island City. When they conduct a checkup every six months, they'll be on the lookout for common signs of gum disease, including:
Swollen, bleeding, tender, and irritated gums.
Chronic bad breath.
Gum recession which makes your teeth appear longer.
Pockets of pus between your gums and teeth.
Pain while chewing.
Tooth sensitivity.
Loose teeth.
Tooth loss.
Preventing Declining Overall Health, Starting With Your Mouth
This research is a testament to how important it is to take care of your teeth and gums to ensure your overall wellbeing. If your dentist spots an early sign of gum disease, they can develop a customized treatment plan to help combat the symptoms and restore the health of your mouth, preventing potential heart problems down the road. Another way you can protect your health is to maintain good at-home dental hygiene by:
Brushing twice each day with fluoride toothpaste for two minutes.
Rinsing your mouth with antibacterial mouthwash daily.
Flossing every day.
Maintaining a nutritious diet.
Avoiding a diet high in sugar and carbohydrates.
If you would like any additional guidance on how to ward off gum disease and protect your cardiovascular system, don't hesitate to ask your dentist during your checkup and cleaning. They'll make sure that you have all of the tools and treatments you need to live a healthy and long life.
About the Practice
At LIC Dental Associates, we have a highly experienced team comprised of a cosmetic dentist, general dentist, periodontist and implantologist, pediatric dentist, and a dental anesthesiologist. With so much knowledge and advanced training under one roof, our patients are able to enjoy comprehensive dental care, including every service from gum disease therapy to dental implants. For any questions or to schedule a checkup and cleaning, visit our website or call 718-530-6539.