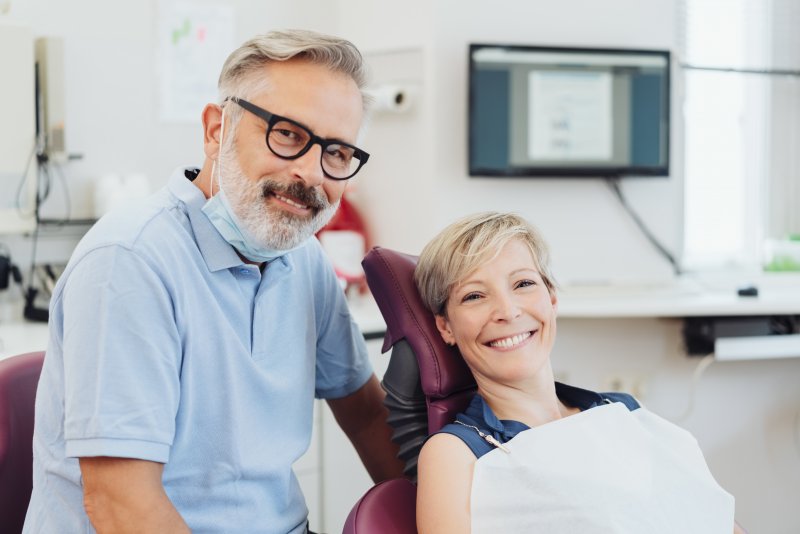 When are you planning to see the dentist this year? If you haven't already made an appointment, now is the perfect time to schedule one. By having a preventive checkup and cleaning done as early as possible, you can keep your smile bright and healthy all throughout 2020! Learn more about the advantages of seeing your dentist in Long Island City early in the year as well as what you can expect during your visit.
Benefits of Having a Dental Appointment
While some people think they can maintain good oral health (and save money) just by brushing and flossing, there are many, many reasons why regular dental visits are important:
Your dentist will often be able to find signs of cavities and gum disease before you even realize there's a problem.
Regular cleanings can get rid of plaque in areas you haven't been able to brush or floss effectively on your own; they're also the most reliable way to get rid of tartar.
An adult's dental checkup will also include an oral cancer screening so that worrisome lumps and discolored lumps can be identified.
Having small dental issues treated early reduces the need for complex dental procedures later.
For children, these visits are an opportunity to learn the proper way to brush and floss as well as check for potential developmental issues.
Even if your teeth are perfectly healthy and intact, the above advantages will make your regular dental visits worthwhile. And if you have dental insurance, preventive visits are one of the best ways you can use your benefits before the end of the year.
What Happens During a Dental Appointment?
Your biannual dental visits have two phases: the checkup and the cleaning. During the checkup, your dentist will ask about your health history before completing a full examination of your teeth, tongue, and gums. They'll be looking for signs of tooth decay and other oral diseases. X-rays are typically taken at least once a year to look for problems that would be difficult to notice during a simple visual check, such as bone loss in your jaw or impacted teeth (as in teeth that are trapped under the gums).
Once the checkup is done, it will be time to clean your mouth with a special set of instruments designed to remove plaque and tartar. A hygienic cleaning is important for avoiding gum disease, cavities, and bad breath. After the cleaning, your teeth will be polished; you'll walk out of the practice with a dazzling, newly improved smile!
A dental visit is usually recommended every six months. If it's been a while since your last visit, or if you think you might need dental work in the future, why not start the year off right by calling your practice now?
About LIC Dental Associates
Here at LIC Dental Associates, we always treat our patients as valued guests, and we consider your comfort and health to be our top priorities. Our experts are thoroughly trained in all aspects of dentistry, and that naturally includes providing quality preventive care. To schedule your first checkup of the year, visit our website or call (718) 530-6539.