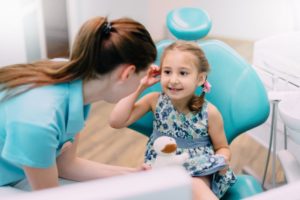 Do you know when your child's first dental visit should be? According to a survey for the Delta Dental Plans Association, the average age American children start seeing their dentist is 2.6 years old. However, this is far later than is recommended by both dental and pediatric experts. The American Academy of Pediatric Dentistry reports that a child's first dental visit should be done before their first birthday, or within six months of their first tooth erupting. Does this sound too early? 62% of caretakers thought that by 12 months old, their child didn't need to see a dentist because they were too young or didn't have enough teeth. Your Long Island City pediatric dentist lays out the most important reasons why you need to take your son or daughter to the dentist for the first time before they turn one.
Teaches Parents
Even though it's your child's appointment, it's important for you as well! Many parents don't receive any guidance on taking care of their child's oral health for years, which could be the reason why dental decay is the most common chronic disease in children across the nation. Your pediatric dentist can give you important information on your son or daughter's dental health and how to take care of it, including:
How baby bottles influence tooth decay.
What you can expect from the teething process.
Proper cleaning techniques for your child's teeth and gums.
What to look out for in pacifier and finger-sucking habits.
Protects Baby Teeth
Typically, a child's first dental visit only includes an examination, and perhaps a gentle cleaning if needed. Your dentist will be evaluating the growth and development of their oral tissues, jaws, and baby teeth while looking for signs of decay. Even though they will naturally fall out over time, taking good care of baby teeth is important for your child in the long run because they:
Aide in proper chewing and maintaining good nutrition.
Play a key role in speech development.
Save space for permanent teeth in the jawbone.
Calms the Nerves
One of the most important reasons to take your child to the dentist so early in their life is to simply introduce them. They'll be able to meet their dentist, experience sitting in a dentist's examination chair, and learn what to expect from a dental examination. Waiting until your son or daughter has a dental issue to acquaint them with the all the new sights and sounds of a dentist's office can be a stressful experience for both of you. If their first visit goes well and leaves a good impression, they'll be much more likely to continue seeing a dentist regularly for the rest of their life.
Don't wait for your son or daughter to experience a dental problem before taking them to their first dental checkup. Taking care of your child's oral health with an early first visit to their dentist sets them up for a lifetime of happy, healthy smiles!
About the Practice
Dr. Ishwinder Saran and the experienced team of dentists at LIC Dental Associates is proud to provide outstanding children's dentistry to the Long Island City, NY area. With a comprehensive variety of specialized treatments, we strive to meet of all your dental needs under one roof. We pride ourselves with quality, friendly care and making your child's first dental visit a positive experience! If you have any questions about your child's oral health, you can contact us at our website or at (718) 530-6539.