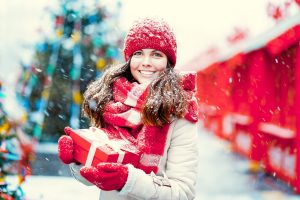 The holiday season is in full swing. Now, your days are a little more chaotic while you travel to spend time with family or shop for the perfect gifts. Although your schedule might be a bit busier than usual, there's no reason to place your smile in harm's way. You can still keep your dental health a priority and enjoy the holidays using a few simple tips from your dentist in Long Island City.

Maintain a Healthy Holiday Smile
Throughout the holidays, you're going to be surrounded by sweet treats and candies. Not only are they bad for your waistline but also your smile. With times being busier than usual, you might skip brushing or flossing here and there. When you combine the added sugar with less than par oral hygiene habits, it might lead to unpleasant news during your next dental visit. Don't worry, you can maintain your smile without dampening the holiday mood using 5 simple tips:
Eat your sweets with your dinner. Eating increases your saliva production, which helps cleanse the mouth of harmful bacteria. It's best to eat your dessert with your meal to prevent sugar from lingering on your teeth.
Grab some crunchy fruits and vegetables. Crunchy fruits and vegetables act like a scrub brush for your teeth to remove biofilm in between brushing and flossing. Instead of candy or cookies, grab an apple, celery, or carrots to keep your teeth clean.
Drink plenty of water. Water is essential for keeping you hydrated, but it also keeps your mouth moist. This reduces bacteria buildup and cleanses your teeth throughout the day. It's best to drink water instead of juices or sodas when possible to keep your smile healthy.
Don't use your teeth as tools. As you open packages and gifts, it's easy to use your teeth as tools instead of grabbing scissors or a knife. Unfortunately, this could lead to a dental emergency. You can avoid a broken tooth or an unexpected trip to your dentist by using the right tools for the job.
Chew sugarless gum. Chewing sugarless gum increases your saliva production to rinse away food particles and plaque that might be lingering in your mouth. It will also help remove bacteria that can lead to bad breath.
Invest in a Healthy Smile for the Holidays
Before your schedule gets too busy, take the time to visit your dentist for a cleaning and checkup. You'll ensure there isn't a hidden problem in your mouth that can lead to a dental emergency, like a cavity. You'll be ready to start the new year with a healthy, beautiful smile.
About LIC Dental Associates
LIC Dental Associates is committed to providing comprehensive, personalized dental care to the community. We focus on family and cosmetic services to create generations of healthy, beautiful smiles in our comfortable, welcoming office. We can help you get ready for the holidays with the routine care your teeth and gums depend on. Contact our office today to schedule an appointment for a cleaning and checkup.