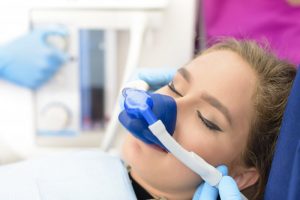 According to a study completed by the Carrington College, dental fear affects an estimated 9 to 15 percent of the American population. This phobia is caused by previous negative experiences, fear of pain and a sense of helplessness in the dental chair. If you are a part of this group, don't write off the dentist forever! With the help of sedation dentistry, you can keep your smile healthy while avoiding negative thoughts. In this post, your dentist in Long Island City explains how sedation dentistry can help you.
What is Sedation Dentistry?
Sedation dentistry is the use of medication to help patients relax during dental procedures. The practice is sometimes falsely referred to as 'sleep dentistry'. The majority of patients are actually awake during their treatment, except those who are under general anesthesia.
There are multiple levels of sedation, including:
Minimal sedation: the patient is awake but relaxed
Moderate sedation: the patient may slur their words and will not remember much of the procedure
Deep sedation: the patient is on the edge of consciousness but can still be awakened
General anesthesia: the patient is completely unconscious
What Types of Sedation is There?
There are four main types of sedation used for dentistry. Regardless of which you receive, you will most likely also be administered a numbing medication at the site in your mouth where your dentist is working.
Nitrous Oxide
You will breathe nitrous oxide (also known as laughing gas) combined with oxygen through a mask placed over your nose. The gas will help you relax and wears off quickly, allowing you to drive yourself home after the procedure.
Oral Sedation
The strength of oral sedation depends on the dose. You will take a pill, usually an hour before the procedure, which will make you drowsy and calm. A stronger dose may lead you to fall asleep, but you can be awakened will a gentle shake.
IV Sedation
This method is similar to oral sedation in terms of its effects and strength. You will receive the sedative through a vein, so it acts quickly. Your dentist is able to adjust your dose in real time to ensure the most comfortable experience possible.
General Anesthesia
This method involves medication that sends you into a deep sleep. It is used for those with severe dental phobia. While you are under the anesthesia, you cannot be easily awakened until the procedure is over. Your dentist monitors your vitals and makes adjustments in real time as needed.
Sedation dentistry in Long Island City can address a variety of phobias that make visits to the dentist difficult. With the help of your dentist, you don't have to neglect your oral health to have peace of mind.
About the Author
Dr. Gordon Barnes is the in-house anesthesiologist at Long Island City Dental Associates. He has over twenty years of experience caring for patients of all ages. Dr. Barnes is a board-certified dental anesthesiologist and a diplomat of the American Board of Anesthesiology. If you have further questions about sedation dentistry, he can be reached through his website or at 718-530-6539.