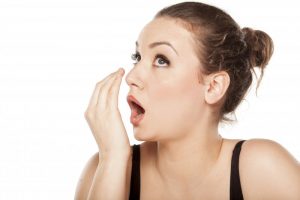 Are you constantly breathing into your hand to determine if your breath smells bad? Do you worry about getting too close to others for fears they'll smell something odorous coming from your mouth? If your bad breath is keeping you from embracing day-to-day interactions with colleagues, friends, and family, a dentist in Long Island City shares 5 ways to eliminate the smell.
What Causes Bad Breath?
If bad breath is keeping you from spending times with those you love, it may feel disheartening and hopeless, but it doesn't have to be. Bad breath, otherwise known as halitosis, is brought on because of bacteria growing in your mouth. Oftentimes, poor oral habits are to blame. When food is trapped between your teeth or along the gum line, bacteria can build and cause an unpleasant smell. Of course, if you decide to eat odorous foods like garlic, onions, or drink alcohol, it is sure to keep others at arm's length.
What Can I Do to Eliminate Bad Breath?
If you're concerned that your bad breath will never go away, there's good news. Here are 5 ways to say goodbye to your stinky breath.
Regular brushing and flossing. If a normal oral hygiene routine isn't part of your day right now, you'll need to commit to one if you want fresher breath. Each morning and night, you'll need to brush your teeth for two minutes, as that is how long it takes to completely remove the bacteria living on your teeth. In addition, you'll need to floss at least once a day to remove any plaque and tartar build up around the gum line or food particles stuck between your teeth.
Scrape or Brush Your Tongue. Your tongue can be a breeding ground for bacteria, which is why it's important to clean your tongue daily. Whether you decide to use a toothbrush or a tongue scraper is up to you, just be sure to ask your dentist about the proper technique to getting rid of the bacteria on your tongue that can cause bad breath.
Drink plenty of water. Food and bacteria can live even in the smallest crevices of your mouth, so you'll need to drink water to flush it out after every meal. You may not remember to carry a toothbrush and toothpaste everywhere you go, but if you're out to eat with your friends, ask for a glass of water and get rid of the odor-causing bacteria.
Watch Your Diet. If you must have that slice of pizza that has enough garlic on it to kill Dracula, make sure you take the proper steps to clean your mouth afterward. The food you consume may have loads of sugar and starch, both of which can provide a haven for bacteria to breed. Opting for healthier foods will protect your mouth against possible infection and bad breath, so choose wisely.
Visit Your Dentist. Don't skip out on your six-month dental appointments if you want to keep your breath minty fresh. Your dentist can determine if there are any underlying problems, especially those not seen on the surface.
Don't become a hermit because of your smelly breath. Get back to good conversation by following these simple tips to eliminate bad breath for good.
About the Author
Dr. Ishwinder Saran's philosophy is to cater to his patient's needs by providing a multi-disciplinary treatment plan to best suit their requirements. Dr. Saran earned his Doctor of Dental Medicine from Boston University Goldman School of Dental Medicine and trained for a year in general dentistry at the Stratton VA Medical Center in Albany, New York. He and his team provide personalized care for you and your family. To find out more about our services, contact us at (718) 530-6539.