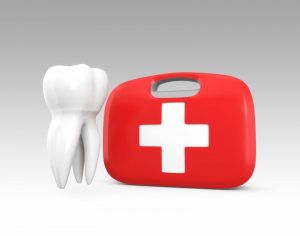 Admit it: you're clumsy. Last weekend's enjoyable stroll across the Queensboro Bridge went from carefree to chaotic really fast. You were taking in the views when suddenly, you tripped over your own feet, falling to the ground and busting your mouth, knocking out one of your pearly whites. This leisurely day turned into a nightmare as you rushed home to call your emergency dentist in Long Island City. When a dental accident occurs, how do you handle it? Well, it's a good thing you asked. Here are a few ways you can address some common dental emergencies should the need arise.
The Remaining Food: Handling a Toothache
Oftentimes, a toothache can be contributed to food stuck between your teeth. I guess that steak was just so good, it decided to lodge itself between your choppers instead of going down! A quick remedy is to clean your mouth by rinsing with warm water. Then, gently floss between your teeth to dislodge any food debris. If the pain is a bit more than you can handle, feel free to take a pain reliever, but avoid aspirin. It can burn your gums.
The Missing Piece: Dealing with a Knocked-Out Tooth
What? The hockey player look doesn't appeal to you? Whether you've been hit by a puck or taken a "trip" over your own feet, the best way to deal with a knocked-out tooth is to first, retrieve it and rinse the root if it's dirty. Try to only hold it by the crown. If you are able, place it back in the vacated socket. If this proves futile, place it in a milk container and get to your emergency dentist as soon as possible.
The Accidental Bite: Treating a Bloodied Lip or Tongue
Don't you hate it when you accidentally bite your lip or tongue? Most of these instances cause only minor pain. However, should you find yourself in a situation that causes you to bite down harder than you anticipated, use a cold compress to reduce swelling after cleaning the area with water. If your tongue continues to bleed, put pressure on the area until you can see your dentist.
The Sharp Edge: Managing a Cracked Tooth
If you've chipped or cracked a tooth, not only is it painful, but if you're not careful, you can cause damage to your other teeth. If your tooth is missing a piece, immediately rinse your mouth with warm water to clean it. To reduce any swelling, put a cold compress against the area. If you have wax, gently place some around the part of the tooth that may have sharp points or edges. This will prevent it from damaging your gums or nearby teeth.
Should you face a dental accident, your emergency dentist in Long Island City understands time is of the essence and will handle the situation promptly. Remember, in these situations, you need to remain calm and remember what to do in the interim.
About the Practice
Dr. Ishwinder Saran earned his Doctor of Dental Medicine from Boston University Goldman School of Dental Medicine and trained for a year in general dentistry at the Stratton VA Medical Center in Albany, New York. He and his team provide personalized care for you and your family. If you're facing a dental emergency, the team at Long Island Care Dental Associates can help! Contact us via our website or by calling (718) 530-6539 to find out more.