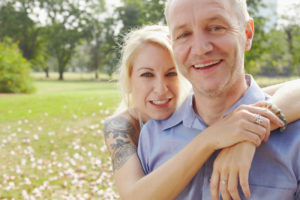 Are women more likely than men to visit a dentist in Long Island City? That's the verdict suggested by a recent study comparing the dental health habits of the two sexes. These results underscore how important it is for all of us, male and female, to take good care of our teeth and gums.
Groundbreaking CDC Study Provokes Discussion
Researchers tracked the dental appointment habits of males and females from 1997 to 2013. Here are some of the findings they reported:
63.4% of men saw the dentist at least once during 2013, up from 62.9% in 1997.
68.9% of women saw the dentist at least once during 2013, compared with 67.1% in 1997.
While members of both genders are more likely to seek dental care than in the past, overall the pattern shows that women are more conscientious when it comes to protecting their oral health.
What accounts for these distinctions? One possible factor is that the two genders view oral health issues in contrasting ways.  According to this theory, men are more likely to reserve dentist visits for those times when they're experiencing genuine discomfort. Women, on the other hand, place a greater priority on preventative measures like regular cleanings and checkups.
As with any research findings, the results of this study are open to ongoing interpretation and revision. Despite this, however, one thing is for sure: whether you're male or female, there are steps you can take to protect your teeth and gums from tooth decay and other common threats. It all begins with the basics.
Nothing Can Replace Brushing and Flossing
All of us should brush at least twice a day with a name-brand toothbrush and toothpaste. Soft bristled brushes are the best choice for most people. Make sure you clean not only the front areas of your teeth but also the backsides and the areas that chew your food. Whether you use a manual or electric toothbrush is up to you, though some dental professionals believe that electric models do a more thorough job of cleaning the teeth.
Flossing is also crucial for your teeth and gums. Floss strings come in a variety of thicknesses to match almost any mouth. An interdental toothbrush provides an alternative to flossing that many patients prefer. It's important to use an up and down motion when flossing rather than side to side. Many people find that waxed string makes flossing more enjoyable.
Using a fluoridated dental rinse or mouthwash will not only help to remove plaque, it can also kill harmful intra-mouth bacteria. Plus, your breath will smell crisper and fresher afterward.
Your dietary choices also play a key role in the health of your teeth and gums. We should all eat a wide variety of healthy foods and limit sugary, starchy items to occasional treats.
Each of us, male and female, has a duty to keep ourselves as healthy as possible. Use the tips in this post to help you take better care of your teeth and gums. Not only will this make your dentist happy, it will have you feeling pretty good as well.
About the Author
Dr. Haley Bindner treats patients of all ages by using only the latest techniques and technologies to assure optimum results. She earned her DDM degree from Boston University and served her residency at Wyckoff Heights Medical Center here in Brooklyn. You can reach her office online or by calling (718) 530-6539.