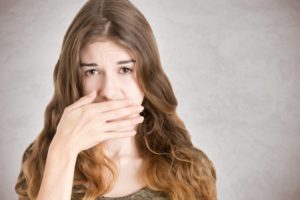 It's one of the most common conditions in the country and quite possibly the world. Chronic bad breath or halitosis, is to blame for many conversations ending abruptly. Imagine the opportunities missed because the person you were talking to couldn't stand the smell of your breath. If you're tired of feeling embarrassed for your bad breath and want a solution, keep reading.
Your dentist in Long Island City mainly focuses on oral health, but bad breath is important to address as well. After all, if you've tried everything to resolve and it hasn't gone away, it could be a sign of something more serious they'd want to address.
What are the Causes of Bad Breath?
The source of your bad breath is most likely bacteria that's accumulated in your mouth throughout the day. Bacteria naturally lives your mouth, but there are certain ways you can exasperate bad breath. If you regularly consume particularly pungent foods like garlic, onions, or coffee, that smell will likely stick around unless you brush.
Furthermore, foods like coffee can also dry your mouth out significantly, making it easier for bacteria to grow. To remove that bacteria, you need to keep your saliva production up. Take a look at medications you're taking to see if their side effects include dry mouth. Other causes of bad breath include:
Tobacco products
Gum disease
An underlying medical condition (sinus condition, gastric reflux, diabetes, kidney/liver disease etc.)
Luckily, there are ways to reduce bad breath.
How Can I Reduce Bad Breath?
Not only does it directly cause gum disease, smoking and using tobacco products of any kind will always give you chronic bad breath. It will also stain your teeth and linger on your clothes, making it more difficult to diagnose your bad breath. Avoid eating foods that dry your mouth out or leave a strong aroma.
As much as you enjoy these habits, you'll have to weigh how much it's worth doing them compared to having chronic bad breath. If you're willing to change these habits, consider swapping them for the following.
What New Habits Should I Pick Up?
To fix your halitosis, start with including these habits and see which one works best for you:
Drink more water and eat crisp healthy foods to improve saliva flow (i.e. apples, carrots)
Brush your tongue during your regular oral regimen to remove biofilm. This contributes heavily to bad breath.
Use mouthwash after meals to temporarily mask strong smells
Visit your dentist regularly so they can confirm there's no underlying condition affecting your bad breath.
If you wear dentures, make sure you are cleaning them thoroughly before wearing them again.
If you still find yourself struggling to remove bad breath, contact your dentist in Long Island City. Treating issues in the mouth is their number one priority!
About the Author
Dr. Ishwinder Saran earned his Doctorate of Dental Medicine from Boston University and committed an additional year studying general dentistry at the Stratton VA Medical Center in Albany, NY. He is a member of several dental associations, including the American Dental Association, the NY State Dental Association, and the MA Dental Society. To learn more about this practice and bad breath tips, contact him at (718) 530-6539 or visit his website.