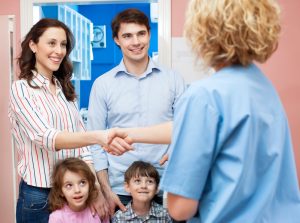 Are you tired of racing all over town keeping medical and dental appointments for your family? Wouldn't it be nice to have kind, comprehensive and state of the art dental services all under one roof? You can access this kind of care from your dentist in Long Island City, Dr. Ishwinder Saran. He and his partner dentists at LIC Dental Associates deliver most every kind of dental treatment available, leaving both young and old patients smiling.
It's All Here
At LIC Dental Associates, Dr. Ishwinder Saran, general and cosmetic dentist, has assembled a team of dental experts who care for whatever dental needs you and your loved ones have. Dr. Hayley Bindner contributes her general dentistry skills to the dental practice with Dr. Michael Capozzi leading on pediatric services and Dr. Stephen Bizzell on periodontology (gum disease). You'll find unparalleled skills and passion for superior dental care at LIC Dental Associates.
Preventive Services
Stopping oral health problems before they start or containing them as they develop is foundational to excellent dentistry. Dr. Saran and his colleagues offer a wide array of treatments, beginning with the most basic–the routine examination and cleaning. Done every six months, this check-up looks for decay, gum disease, bite and joint problems and the condition of existing restorations, such as fillings.
The family dentists in Long Island City use comfortable and innovative techniques as part of preventive care, things such as:
NOMAD handheld digital X-rays
SOPRO intraoral cameras to detect hidden decay
Night guards for snoring
Athletic mouth guards
Plastic sealants and fluoride treatments
EMS Piezon Scaling
Plus, the doctors accommodate the needs of seniors, fearful patients (with sedation dentistry) and youngsters. They follow the recommendation of the American Academy of Pediatric Dentistry which says to bring children to the dentist by the age of 6 months or when that first tooth erupts.
Restorative Services
Decay, gum disease and injury are not always avoidable. For those times, the dentists at LIC Dental Associates offer the best in restorations to get you smiling and healthy again. Treatments include:
Invisalign and Propel orthodontic care for older teens and adults
Dentures
Crown and bridge
Root canal therapy
EMS Piezon Scaling of tartar and plaque
Arestin antibiotics for gum disease
Dental implants
Emergency dental care
The doctors compile their diagnostic findings into a complete treatment plan for each patient, centering on achieving a stable, healthy, and attractive smile.
Cosmetic Services
The healthiest of smiles can need aesthetic help. Dr. Ishwinder leads the dental team in cosmetic services. He is is particularly proud of the imaging techniques used to devise a path to a beautiful smile. For instance, the 3M digital scanner creates virtual three-dimensional images of the patient's mouth for use in fabricating porcelain crowns, Invisalign aligners and other aesthetic treatments.
Cosmetic services, include:
Professional in-office or at-home teeth whitening
Porcelain veneers
BOTOX
Tooth-colored fillings
All-ceramic crowns
Whether your smile just needs a little boost, or you desire a full makeover, the team at LIC Dental Associates can create the best look for you.
Full-circle Care
It's what the experts at LIC Dental Associates deliver for families all over the Long Island City Area. Open for appointments seven days a week, our office is comfortable, welcoming and fully equipped to handle your important dental needs.
Contact LIC Dental Associates to arrange a personal consultation and examination with one of our doctors.