How Dental Implants Work – Long Island City, NY
Your Journey to a Renewed Smile
It is understandable if you are a little nervous about getting dental implants in Long Island City. After all, the treatment requires a significant investment of both time and money. You may find that it puts your mind at ease if you learn more about the process ahead of you. While your implant dentist is the only person who can fully explain your unique treatment plan, the following information will give you a general idea of what to expect while you are on your journey toward a renewed smile.
Initial Dental Implant Consultation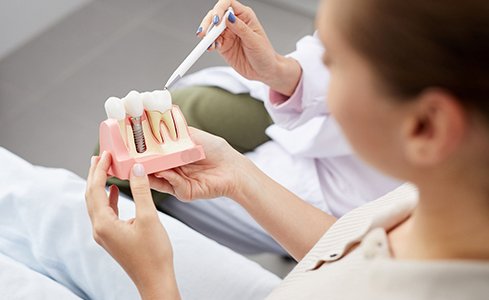 The first step in your treatment is a consultation with an implant dentist in Long Island City. They will carefully assess your oral health, learn about your goals for treatment, and answer your questions. Our team may use our advanced CBCT scanner to learn about the state of your jaw and teeth as part of this initial appointment.
After getting to know you and your oral health, your dentist will talk to you about the specifics of your recommended implant treatment. Some patients can begin preparing right away for their implant surgery, while others must undergo some preparatory treatment — such as a bone graft — before they can move forward.
Dental Implant Surgery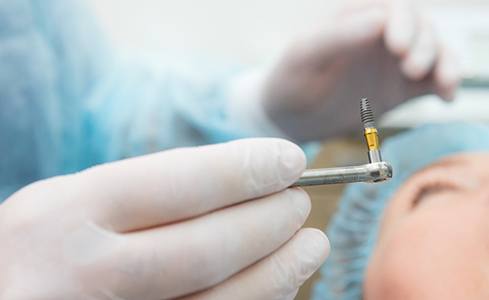 During your dental implant surgery, our in-house implantologist, Dr. Steven Bizzell, will insert your dental implants into your jaw at precise, pre-planned locations. The surgery does not take long, and many patients are able to go back to work within a day or two of it. During the procedure, our team will ensure your comfort with anesthesia. We also offer various levels of sedation, from mild nitrous oxide to powerful general anesthesia. Before you go home, we will make sure you have detailed postoperative instructions to make your recovery as smooth as possible.
Dental Implant Osseointegration & Abutment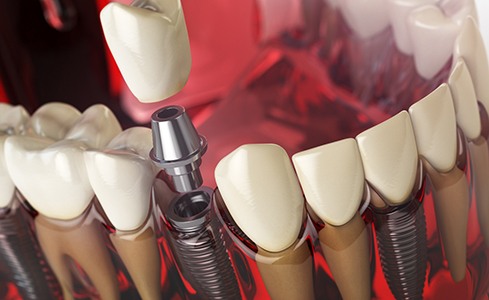 After your surgery, a remarkable process known as osseointegration will begin. Essentially, this means that the dental implants will fuse with the surrounding bone, enabling them to act as a strong base of support for the artificial teeth that will go on top of them. Osseointegration typically takes at least a few months.
Following osseointegration, you might undergo a second surgery, during which the heads of the implants will be exposed and small connector pieces, called abutments, will be attached to them. The abutments will serve to secure your new teeth in place.
Placement of Dental Implant Restorations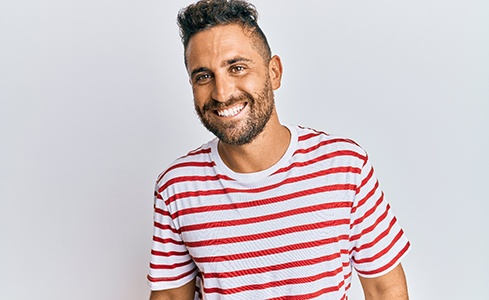 After the tissue around your implants has healed, your dentist will get to work on designing the crowns, bridge, or denture that will go on top of your implants. We carefully design each restoration so that its size, shape, and color complement a patient's oral anatomy and facial characteristics. Once your restoration is in place, you will be able to start enjoying the full benefits of your new, implant-supported teeth.
Would you like to learn more about how dental implants work in Long Island City? Contact us today to schedule your consultation!